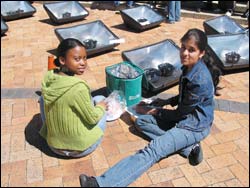 Al fresco lessons: Fundiswa Ncora (left) and Pavitra Naidoo assemble their ingredients for tomato chutney. Ingredients: tomatoes, onions, spices - and plenty of sun.
This was one day when the peninsula's skittish spring weather played along. And the first-year chemical engineering students made the most of it, out on the plaza of the chemical engineering building.
The group showed off their culinary skills during a cook-out using solar-powered stoves, part of their preparation for senior lecturer Dr Harro von Blottnitz's course, one that includes the design of a solar-powered desalination plant.
"The project gets them to think about solutions to the water shortage in the province," Von Blottnitz explained.
The stove of choice was Sunstoves, manufactured by Solardome SA, a company that won the Africa Economic Developer Award for 2005. These were donated by BECO, the Institute for Sustainable Business in South Africa.
Though two-minute noodles took a lot longer to reach the desired al dente stage, there were some ambitious chefs out on the plaza, one with a chicken and rice dish simmering - at least a morning's cooking.
The stoves, lightweight, simple plastic mouldings with reflective side panels and heat-absorbing black cooking "plates", can be rigged up anywhere the sun shines. The potential for impoverished rural communities is substantial. Imagine not having to trek to collect firewood.
At the end of the project, the class donated the Sunstoves to the South Africa Care Mission (chosen by the students) who will use them in their outreach to Kommagas, a community of 8 000 west of Springbok in Namaqualand.
Plenty of sunshine there.
---
This work is licensed under a Creative Commons Attribution-NoDerivatives 4.0 International License.
Please view the republishing articles page for more information.
---