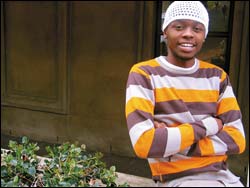 Newly elected SRC president Siphiwe "Spijo" Hlongwane.
Siphiwe "Spijo" Hlongwane (21) calls himself a people's person. As the new president of the Student Representative Council (SRC), this means roughly 22 000 of them.
Spread between the university's multifarious campuses, it's a large constituency (40.5% turned out at the poll) and the third-year social sciences student, who takes office on November 1, says his excitement has been tempered by his responsibilities.
The issues have not changed markedly: transformation, an African curriculum, funding, exclusions and HIV/AIDS still feature strongly in his manifesto. It's the challenges that lie in motivating the student body to drive that change that preoccupies him.
As the incoming SRC president, his approach will be three-pronged: student-centred, student-driven and gender-sensitive. He wants to build an SRC that will tackle issues like the composition of the student and staff profile (the transformation ticket).
"We want to position the SRC as a central driver for transformation and implementation."
Hlongwane has plenty of leadership experience: he's president of the ANC Youth League at UCT; head student at College House; and deputy chair of the Humanities Student Council.
Soweto-born, Hlongwane matriculated from Christian Brothers College in Boksburg. UCT was where he wanted to be, needing space for introspection. In fact, his most pressing decision was whether to pursue a soccer career (in high school he played right half for Southern Gauteng) or come south for an academic grounding.
The compromise was a split between books and ball. Between classes and tuts he dons a jersey for UCT's soccer first team.
His family were stalwarts of the struggle. Father, Vincent Hlongwane, now deputy director of Foreign Affairs, was in exile while Hlongwane was a boy. He's old enough to remember the last thrashings of the apartheid monster, when security police habitually raided his mother Maggie Hlongwane's home.
"It made me strong as a person," he muses.
There is some satisfaction that of the 10 ANC Youth League candidates running for SRC, nine were elected to office among the 15 members.
Though the student profile has changed markedly over the past decade, part of his transformation effort will be to increase the number of South African blacks at UCT.
With a substantial intake of black students from the SADC region, Hlongwane feels the university is failing to attract local black students, many financially and academically excluded.
He tosses around the question of funding for a moment. Government's responsibility or UCT's? It's a pretty even split, he believes. Nonetheless, he says the vice-chancellor should review progress made by the Chancellor's Challenge 175 campaign to raise R175-million over the next five years, aimed at boosting the university's endowment fund and putting more disadvantaged students, products of the country's second economy, in the lecture rooms and laboratories. The plan needs overhauling, he says. And more communication is needed.
He also visualises a more active role by his constituency, especially postgraduate students, who could be doing more to help, through mentoring and tutoring students, even in residences.
The backdrop to this sketch is one Hlongwane is well aware of: last week Education Minister Naledi Pandor talked of cutting the enormous growth in student numbers at the country's tertiary institutions, seeking ways to curb the 50% dropout rate (Business Day, Sept 28).
And yes, student apathy is a concern. It goes hand in hand with the quality of leadership on campus, the communication of the issues at hand, and a transparent system of accountability within the SRC.
Ultimately, the university is the foreground for the national picture.
"We are no longer burning tyres but sitting down and implementing the policies the government has put in place. It's only feasible if we as student leaders work together and if students and staff pull together to make our mission statement a reality."
Long term, Hlongwane has a career in politics in mind. A graduate of the Public Policy Partnership (he graduated from the Winter Institute in July), he will spend the first five years after university as a policy analyst in government. His goal is to be an advisor to the president.
Describing himself as a "spiritual guy", Hlongwane is a member of the Catholic Kolbe House and a committed Christian. He's keen on books: autobiographies of African leaders mainly.
When the pace picks up early next year, what quality will he fall back on when the going gets tough?
"I'm a good listener," he says thoughtfully. He also counts himself fortunate to have the support of girlfriend Dineo Mpanya, a third-year medical student.
Congratulations to the new SRC: Justin Ma (vice-president, external), Andrew Button (sport and recreation), Andiswa Magadla (vice-president, internal), Tebogo Moalusi (entertainment and fundraising), Vavariro Gabi (health, safety and security), Peter-Paul Mbele (secretary-general), Rowan Dunne (day houses), Ridwaan Kalla (societies), Lindizwe Zibi (residences), Sinethemba Mahabeni (treasurer), Patricia Phomane (transformation), Keran Boyd (deputy secretary-general), Ludwe Mbhele (chair: academics), and Brenda Oca (media and communications).
---
This work is licensed under a Creative Commons Attribution-NoDerivatives 4.0 International License.
Please view the republishing articles page for more information.
---