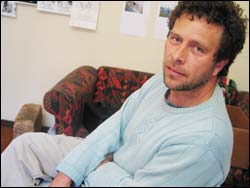 Peter Anderson
Nobody forgets a good teacher. So the saying goes. But how exactly do you identify one? Sometimes it's only in looking back that we see which teachers really made their mark on us - for the better. UCT has honoured four fine ambassadors for the craft, recipients of Distinguished Teacher Awards for 2005: Yvonne Banning (drama), Peter Anderson (English language and literature), Mohamed Paleker (law), and Dr Marc Blockman (pharmacology). The latter three shared their thoughts on teaching.
On the challenges and frustrations of teaching, Anderson says he loves hearing academics complain about the job: "It's a sure sign that they've never worked outside the university. This job is a pleasure. If there were no challenges then we would not be doing what a university does, which is to challenge itself with questions. That's as true for teaching as it is for research." He counts enthusiasm as his main strength, not only for his subject but for the possibilities of the learning mind. "I always hope simply to raise minds (my own included) to a point of combustion, at which insight and creativity happen freely. Then there's no need for a teacher. Also, at some point, despite the numbers, you've got to see those you teach as individuals; if not, you might as well teach on TV." Anderson counts himself fortunate to have had many good teachers; several of them are his colleagues today. "As a young schoolboy in Grahamstown in 1980, I discovered the power of reading and writing to amplify (or contain) life, like a kind of gear for living. The person who taught me that, and how to write properly, and the necessity of reading and writing for the rest of my life, was Tony Parnell."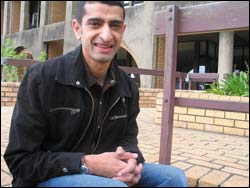 Mohamed Paleker
Paleker, who started lecturing in the faculty in 2000, already has a meritorious award for teaching. "The South African civil law, on account of its structural integrity and the reputation it holds in many parts of the world, is like a Ferrari engine. However, to set the law in motion, one needs a chassis and a good set of wheels; in this case the law of civil procedure. In substance, civil procedure is all about the litigation process. It is a tricky subject to teach because the teacher must be something of a 'radiologist' of law. Litigating a matter is not just about form, it is also about substance." He was initially reluctant to teach civil procedure because of the course's "sheer breadth". "I decided to teach the course differently from the way I was taught. I undertook to teach theory and, at the same time, illustrate the practical application of the theory through simulated practical exercises. It took a lot of work on my part, but the system worked. I now consider it an honour to teach this course as it is through this course that I remain in the memories of my students. Each year I receive dozens of e-mails from former students, either joining the bar or sidebar, or taking up employment as legal advisors. They laud the relevance of the course and the difference it has made to their careers."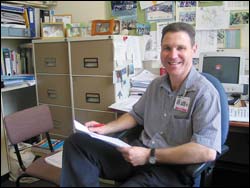 Dr Marc Blockman
A specialist clinical pharmacologist, Blockman also holds a meritorious award for teaching (2003). The challenge in his field is achieving a balance between service delivery and teaching. "Being employed by the province as a clinician, patient care is paramount, and finding the time to teach and be involved in administration as well as mentoring students is often difficult. In a short time with the students one needs to develop their trust and a strong bond, allowing for a partnership of learning." Teaching, he says, keeps him honest. "Each unguarded statement, opinions about others and reaction under pressure are all magnified. One needs to create a trusting relationship to foster the benefits of teaching. My aim is to inculcate in students the ability and insight to practice rational and sensible prescribing habits. Irrational prescribing is as much a 'disease' as any other, but it is particularly ominous when the caregiver undertakes it. This is why it is so important to set correct standards at an early stage of the young doctor's career and before bad habits prevail." Blockman also believes in an open-door policy. "I invite them [students] to approach me at any time with clinical or personal problems. In addition, I try to maintain contact with them throughout their clinical years so that they can integrate my philosophy and ethos into their 'world-view' of medicine." Dr John Straughan is a favourite past teacher and mentor. "He was never arrogant and never put down a student. He was also an excellent pharmacologist."
---
This work is licensed under a Creative Commons Attribution-NoDerivatives 4.0 International License.
Please view the republishing articles page for more information.
---