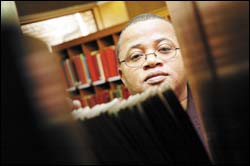 Top shelf: Hans Taje keeps a close eye on the Music Library's holdings.
Hans Taje is just the library assistant you need in a pinch. Why do we say so? Imagine you've just dashed into the music library at UCT in frantic search of The Big Drum Ritual of Carriacou: Praise Songs in Rememory of Flight, by Lorna McDaniel. You've even jotted down its Dewey number of T 781.7729845 MACD - which your brain has probably reduced to T 781.77XXXX for ease of filing because what's with all those numbers anyway? - so you have some idea where, more or less, to go. What you don't know is that another student had been skimming through the book the day before, and, because his brain only registered T 781.77XXXX as well, had shoved it back on the shelves in the wrong spot. Bugger. But fear not - thanks to Taje, The Big Drum Ritual of Carriacou, Dewey number T 781.7729845 MACD, is right back where it belongs. You see, among the shelvers in academic institutions in the Western Cape, Taje is the best. And that's official. He beat all six other comers in the Library and Information Association of SA's (LIASA) regional Shelver of the Year competition, hosted at UCT in July. It took him just eight minutes and 25 seconds to shelve 50 books in perfect order - neatness was another criterion - in the event. (Trevor Hanslo, a shelver from the health sciences library, came second.) "It feels great," says Taje of being provincial champ. And he's now in line for the national title - he'll be off to LIASA's annual conference in Nelspruit at the end of September, where he'll represent the Western Cape in the national competition. "It makes us all very proud to know we have the best shelver in the Western Cape here," says Shaheema Luckan, Taje's colleague.
---
This work is licensed under a Creative Commons Attribution-NoDerivatives 4.0 International License.
Please view the republishing articles page for more information.
---