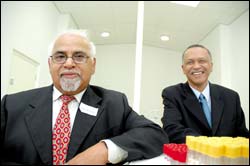 Spreading their wings: Dr Abdul Wahab Barday, a member of the health sciences' faculty board, and Prof Jimmy Volmink, chair of primary healthcare at UCT, inspect the Vanguard Student Learning Centre, an extension to the Vanguard Community Health Centre, at its opening.
Back in 1995, after much heart-searching and a special assembly, the Faculty of Health Sciences adopted a primary healthcare policy, designed to help the faculty chart a new course in line with national healthcare concerns.
In quick time that policy led to the appointment of its first chair of primary healthcare, Professor Dumo Baqwa. A few years later, the faculty overhauled the curricula of its many programmes to reflect its new policy.
Now it's taking its primary healthcare focus to the next level.
Just over a week ago, the faculty opened its first "purpose-built" student learning centre in the nearby Bonteheuwel community. The R2.8-million (plus another R600 000 for equipment and furnishing) Vanguard Student Learning Centre is an extension to the Vanguard Community Health Centre that serves the neighbouring communities of Bonteheuwel and Langa.
The new facility boasts, among other things, 10 consulting rooms, patient waiting areas, a computer room, a seminar room, and a courtyard where students and patients can relax. The centre is also fully equipped for medical consultations, as well as physiotherapy and speech-and-language therapy.
Funding for the venture came from the UK-based Rangoonwala Foundation - Dr Abdul Wahab Barday, a member of the faculty board, was instrumental in securing that support - and the Liberty Foundation of South Africa.
The centre will serve as a base from which UCT students, supported by faculty members, part-time practitioners from communities and provincial staff, will come face to face with the business end of community-based healthcare. Among other things, they will deliver a range of services and conduct research in the two areas.
"We really want our students in medicine and the allied health sciences to have a rich awareness of the challenges of working in communities in and around Cape Town," said Professor Martin Hall, UCT deputy vice-chancellor, at the opening of the centre. "This is an opportunity for us to educate different sorts of students in healthcare work in South Africa."
And that's the crux of it, notes Professor Jimmy Volmink, current chair of primary healthcare at UCT.
"The importance of providing a community-based educational experience for future health sector professionals cannot be overemphasised," he says. "Doctors, physiotherapists, occupational therapists, etc, all need exposure to the community realities of our country.
"Indeed, we believe it is a core aspect of their training."
The faculty hopes to up the level of exposure in the near future. It's already lining up venues - in Khayelitsha, Hanover Park, Mitchell's Plain and Retreat - for four more such centres.
Here too, UCT won't go it alone, but will rely again on the help of its Vanguard centre partners - the Provincial Government of the Western Cape (PGWC) and the City of Cape Town.
"The Western Cape, and in particular the Cape Metro, is challenged by a particular burden of disease that is very unique," said Professor Craig Househam, head of health in the province. "We have the diseases of development - AIDS, tuberculosis, infectious diseases - but we also have diseases of lifestyle, like chronic diseases, hypertension.
"Our communities are suffering under a very significant burden of disease, which poses particular challenges to health services in the Western Cape and the Cape Metropole."
And, if the health sciences faculty has its way, that's a challenge its students will be well equipped to tackle.
---
This work is licensed under a Creative Commons Attribution-NoDerivatives 4.0 International License.
Please view the republishing articles page for more information.
---