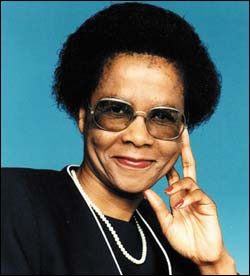 Dr Mamphela Ramphele
Xhosa play at Little Theatre
Nothing is as fulfilling as busting a syndicate. This is what Sesh Betinja felt even though he landed in hospital with a few broken bones. The boss of Ma-Africa Benefit Dry Cleaners, Vumisa Majoro had called him and invited him to work at his business. This, he claimed, was due to articles Sesh had written in local newspapers. Sesh, didn't he smell a rat there? Did he for one second think his involvement would lead to losing a cousin through a car accident?
The beautiful woman who crossed Sesh's path at the Majoros was to become his worst nightmare. The old lady who answered the door proved to be more than that. Skhuveth had done a lot of teaching when he shared his crooked skills from Zola, Soweto, with the rural people of the Eastern Cape.
GBS Xundu reveals just how people can lay their hands on easy money. Doctors, lawyers, accountants, and some members of the police are a big part of this exhilarating story, as what, one may ask.
Come to the Little Theatre and find out for yourself how these interesting characters relate to today's money-making schemes, cheating, robbing, fighting and many other tactics.
At last, it is here, a performance in isiXhosa, at the Little Theatre, 37 Orange Street, from August 20 - 23 at 19h30, August 24 - 26 at 14h00, and August 27 at 10h00 and 14h00. Bookings through tel 480 7129 or e-mail scole@hiddingh.uct.ac.za.
Come to Postgraduate Open Day
UCT will host a Postgraduate Open Day in the Robert Leslie Social Sciences Building on upper campus on Saturday, September 10, from 10h00 to 13h00.
Prospective postgraduate students are invited to investigate the huge choice of study options available to them.
This is the place to be if you are planning a career path that will open doors for you. Check out the programme at www.uct.ac.za or e-mail tkona@bremner.uct.ac.za.
Ramphele to give Biko lecture
Dr Mamphela Ramphele is to deliver the annual Steve Biko Memorial Lecture at UCT on September 12.
The lecture, which has become a highlight of the UCT calendar, will look at the notion of how to be responsible custodians of democracy in light of the sacrifice of the heroes of the struggle.
Every year, the lecture has a particular theme. This year it is dedicated to the memory of the victims of political detention and is called Celebrating the Martyrs of Hope. These are the 46 people who died in detention prior to the murder of black consciousness activist Steve Biko in 1977.
The lecture takes place at 18h00 in Jameson Hall. Doors open an hour before.
Public lectures on Timbuktu
The Graduate School of Business is hosting a three-day international workshop focusing on Timbuktu this week.
The workshop, from August 22 - 24, is supported by the South Africa-Mali Timbuktu Manuscripts Project Trust, Department of Arts and Culture, Department of Science and Technology, UCT and the Ford Foundation.
Dr Shamil Jeppie of historical studies at UCT has been integrally involved in the planning of the workshop, which will be attended by researchers and academics from Africa, Europe and the United States, with two evenings devoted to public lectures.
These will be tonight (August 22) at 19h30 when Professor Roderick McIntosh (archaeology, Rice University and Pretoria University) addresses the topic of Before Timbuktu: Cities of the Elder World; and Emeritus Professor John Hunwick (history, Northwestern University) talks on Timbuktu: Town of Commerce and Learning.
On Wednesday August 24, also at 19h30, Professor Souleyman Bachir Digne (philosophy, Northwestern University) will speak on Towards an Intellectual History of West Africa: The Meaning of Timbuktu.
This session will have responses from Professor Ousmane Kane (politics, Columbia University) and Professor Mamadou Diawara (anthropology, Pont Sud, Bamako/Tubingen Unversity).
Dr Pallo Jordan, Minister of Arts and Culture, will close this session and the workshop.
The venue for the public lectures is the Exhibition Hall, UCT Graduate School of Business, at the Waterfront.
Due to limited space, RSVP Susana or Brenda on tel 650 2740/2 or e-mail timbuktuwork@iafrica.com.
---
This work is licensed under a Creative Commons Attribution-NoDerivatives 4.0 International License.
Please view the republishing articles page for more information.
---