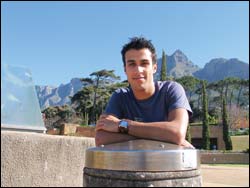 Second wind: Shukri Toefy, new chair of the UCT Volleyball Club, hopes to inject life into a club sport that in its glory days was dominated by the Toefy brothers.
Shukri Toefy comes from a long lineage of volleyball players.
"It's a passion for me," he says. The new chair of the UCT Volleyball Club remembers wearing a big, floppy volleyball shirt as a six-year old, and getting hit on the head by the ball. It's a family business: his father and brothers are all involved. In the Western Cape, Toefy is one of the names that has become synonymous with volleyball.
Toefy isn't as tall as one might expect. By his own confession he's usually the shortest on the court.
"But I can jump," adds the second-year law student. And he's very fit, the perfect combination.
His first priority as chair of the UCT club is to put volleyball back on top. In the days when his brother Rashid, a setter of note (a setter is the equivalent of the half-back pairing in rugby - they call the moves and dictate play), also chaired the UCT club 10 years ago. Back then they were the club to beat. But it was also an open club, and not limited to students.
This is the challenge Toefy junior faces; bringing in new blood. Without scholarships, sponsorships and funding (the fate of most small sports), it's difficult to attract players. Toefy is a case in point. Though he has made national teams at every age level since his school days, he has managed to secure a small scholarship only. It's the clubs like University of the Western Cape, with their big financial incentives, that attract national players.
Three years ago the club plummeted to the bottom of the log. But Toefy hopes that with his brother, Seraj, in a coaching role, some of the former glory might return.
"Last year we were fifth in the league," he added. Things are looking up.
He also has a holistic plan to nurture new talent, beginning with a development programme in the harbour-front township in Hout Bay every week. Recently, 20 schools converged on the UCT Sports Centre as part of the development.
"We tried to make it a fun day with prizes from our sponsors. We also wanted them to feel that UCT is a viable option if they do well at school. We need to catch kids early."
The club has already earmarked one youngster from Steenberg, but the offer of a bigger scholarship may put him out of reach.
And yes, the UWC team may boast national players, but UCT beat them this year.
"Three sets to nil," Toefy points out.
The satisfaction is evident.
---
This work is licensed under a Creative Commons Attribution-NoDerivatives 4.0 International License.
Please view the republishing articles page for more information.
---