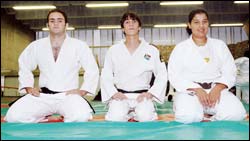 Among the medals: Joshua Weinstein, Ralf Reynold and Bronwyn Boesack earned UCT new respect at the recent Sassu judo tournament.
With only five active members last year, it looked like the Judo Club's days on the mat were numbered.
Enter second-year property studies student Joshua Weinstein with his infectious energy and comprehensive marketing plan and you have a recipe for success.
Thanks to Weinstein and his executive committee's drive, the Judo Club now boasts an impressive active membership totalling 30, as well as an overall fourth placement at the Sassu Judo tournament - the club's first-ever team event.
Weinstein explained: "We took it upon ourselves to increase our numbers and we focused our attention on orientation week. We were there every day from early in the morning with our flyers, posters and T-shirts. Eventually people could see we were putting effort into the club and energy attracts energy. Before long we had about 50 members on paper."
Now with both experienced and inexperienced members, the club is going from strength to strength.
"We have one guy who is in Cape Town to learn English and he is from the Korean national judo team. We help him learn English and his experience helps the club," added Weinstein.
Once you get past the fear of falling, Weinstein says the discipline is infectious.
"It's like a virus in your system. You might take a break from judo, but once you get back on the mat, that's where you will stay."
Translated from Japanese, judo means "gentle way", and its technique focuses on exerting minimum effort to gain maximum efficiency. It's all about the use and transference of energy.
The Sassu tournament held at the University of Stellenbosch from April 27-30 was the first time the club entered a full team, consisting of seven men and two women, into a competition.
"We gave it everything we had," said second-year medical student Bronwyn Boesack, who represented SA at the World University Judo Championship in Moscow last year. "We became a team and came away with a lot of knowledge. For some of our beginners, it was their first tournament and they got a feel for what judo is all about."
It wasn't only Boesack's judo skills that came in handy at the tournament (she received a silver medal), but her medical training was called upon to administer first aid to a contestant who suffered a concussion and dislocated shoulder. There were also minor bleeds, aching muscles and a broken collar bone that she attended to.
Its own aches aside, the club did very well. Among the men, David Sedgwick won a silver medal, while Ralf Reynold and Joshua Weinstein collected bronze. Boesack also picked up a silver medal in the women's event, while Chantelle Goosen won a bronze.
Other team members were Margaret Cunninghame, Nthabiseng Tau, Jae Jun Choi, Harley Edwards, Nyameko Lisa, James Lee and Ludowic Paluku-Lubumbwa Boesack and Sedgwick were also selected for the Sassu squad and are preparing for the All Africa Student (Pretoria) and 18th World University Judo (Korea) Championships in 2006.
---
This work is licensed under a Creative Commons Attribution-NoDerivatives 4.0 International License.
Please view the republishing articles page for more information.
---