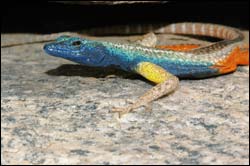 Broadley's Flat Lizard.
They've done birds and frogs, and now reptiles will be the focus of attention in the next big atlas project coordinated by the Avian Demography Unit at UCT.
Hot on the heels of the publication of the Frog Atlas last year, and following the 10-year Bird Atlas, which included massive public involvement, the ADU has now been commissioned to spend the next four years mapping the distribution of reptiles in southern Africa to identify species at risk.
Funded by the South African National Biodiversity Institute (Sanbi), the ADU will work hand in hand with experts from universities, museums, conservation agencies and the Herpetological Association of Africa (Haa).
Called the Southern African Reptile Conservation Assessment (Sarca), this venture will see ADU herpetologist Marius Burger leading teams on 40 two-week field trips in South Africa, Lesotho and Swaziland, with James Harrison coordinating the project back at UCT with the assistance of IT specialist René Navarro.
As Burger said at the launch at Kirstenbosch Gardens last week, setting bucket and funnel traps and actively searching for reptiles will be "like Christmas every day" because of what might turn up, including the strong possibility of new species.
Southern Africa is exceptionally rich in reptile species, especially lizards (third only to Australia and Mexico), and terrestrial tortoises. The region also boasts 156 snake species.
The public, too, will have an opportunity to get involved by submitting digital photographs of any reptiles they may come across, dead or alive, for publication in an online "virtual museum".
ADU director Professor Les Underhill said the unit was becoming increasingly involved in biodiversity demography, which might require a name change for the unit soon. He said this latest project was a "huge responsibility" conferred on them by Sanbi.
Kristal Maze, biodiversity, policy and planning director of Sanbi, said: "We know very little about the conservation status of reptiles, despite the fact that South Africa has an extremely rich reptile fauna - over 360 species in 22 families. This information is essential for identifying priorities for conservation action, which are likely to include regulation of collection for the pet trade and minimising habitat loss."
The last attempt to record the distribution of reptiles was 16 years ago. Since then many new species have been discovered and some have yet to be properly described. The rate of description of new species has been around one every 50 days for the past decade. Reptiles have an important impact on ecosystems as most are predators, which helps to control pests such as rats, mice, mosquitoes, flies, and termites. South Africa has about five times more reptile species than would be expected for a country this size, and many are found only in South Africa.
"It is astonishing how much valuable and useful information can be gathered by the public if their contributions are organised appropriately," said Harrison. "The bird and frog atlas projects proved this, and I believe that the wildlife enthusiasts of South Africa will support Sarca in the same way."
* For details on how to participate, visit the project website at www.saherps.net.
---
This work is licensed under a Creative Commons Attribution-NoDerivatives 4.0 International License.
Please view the republishing articles page for more information.
---