Highest abseil for fund raiser
The My African Dream (MAD) team that will kayak the full western stretch of Lake Malawi during the June/July vacation have arranged an abseil fundraising day for May 22. The abseil will be off the top of Table Mountain, and will be run by Abseil Africa. This is the world's highest abseil, and all proceeds will go towards the Malawi expedition. To find out more please go to www.seakayak.co.za/mad. (Discount rates are offered for students.) The group of eight, which includes six UCT students, hopes to become the first to kayak the western coast of the Great Rift Valley's southern-most lake in just over a month - all 800km of its convoluted shoreline, moving from south to north with prevailing winds. They will start in Mangochi (Malawi) and end in Mantema (Tanzania).
Dinner theatre tribute to Pip Freedman
Broekies and Plaatjies, The Tribute to Pip Freedman opened on May 11 for a season at a venue especially created for this production - Theatre in the Oaks Room, at the Western Province Cricket Club Pavilion. The show celebrates the life and humour of Freedman, an icon of South African comedy whose many ethnic character impersonations were heard every Saturday morning on Springbok Radio for over 26 years. The show is directed by Oscar Petersen and performed by Gary Naidoo and Keeno-Lee Hector. Broekies and Plaatjies was successfully showcased at the 2005 KKNK Festival and is produced by Duncan Hammond. Performances are from Wednesday to Saturday at 20h30 and at 14h00 on a Sunday. It is dinner-theatre and includes a two-course meal. The meal and show costs R150 per head and there are 30 tickets at R88 each for the show only. Bookings can be made through Computicket at tel 083 915 8000 or online at www.computicket.com.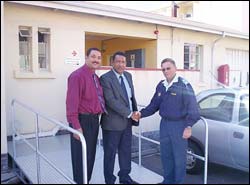 Ramp makes life easier
UCT donated and installed a wheelchair ramp for the Mowbray SAPS Victim Support Room, making it wheelchair- and elderly-friendly. The room hosts seven volunteers who assist victims in traumatic situations. Pictured below left are (from left) Insp Arthur Minnaar (SAPS Victim Empowerment Coordinator), Steven Ganger (manager of crime investigations at UCT), who initiated the donation, and the Mowbray SAPS Station Commissioner, Supt Marthinus Fourie.
Notions of Paradise
The outcome of a residency being taken up by Jay Pather at UCT's drama department, Paradise, is a provocative and thought-provoking production that combines a range of languages: dance, text, projections, music and architecture. The dance and music are influenced by several cultures and uses both traditional ritual as well as street-sussed contemporary dance. The works are all site specific and make use of the exteriors of the theatre spaces and courtyards on Orange Street. Pather, who created the work with senior students in the department over a five-week period, has become known for his site-specific dance works, among them the CityScapes series of works in Durban and Johannesburg, as well as large-scale site-specific works at the Personal Affects exhibition in New York and the Interface Theatre and Dance Festival in London. The production runs from May 17-20. Patrons are asked to meet outside The Intimate at 37 Orange Street where they will be taken to the various site-specific work. For more information, please contact Susan on tel 480 7129 or e-mail scole@hiddingh.uct.ac.za.
Decadent lives in 18th-century France
Les Liaisons
Dangereuses by Christopher Hampton and directed by Geoffrey Hyland, runs at the Arena Theatre 37 Orange Street from May 21 until June 4. Set in 18th century France, it tells the tale of the Vicomte Valmont, a dangerous seducer of women, and his former mistress la Marquise de Mertueil. The play recounts the elaborate sexual games of the decadent upper class on the eve of the French Revolution. Among the beautiful and powerful set, blackmail, bribery and deceit are commonplace, and the two aristocrats use their position in society to wreak their revenge on it. Bookings can be made by tel
480 7129
or e-mail
scole@hiddingh.uct.ac.za
.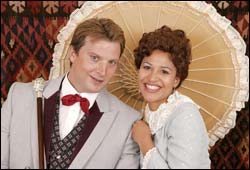 Angela Kerrison as Magnolia and Brad Drummer as Gaylord Ravenal star in the Broadway musical Show Boat.
Cape Town opera's Show Boat at the Artscape
The Cotton Blossom river boat and its cast of characters are due in the Mother City later this month to entertain the entire family. The Broadway hit musical
Show Boat
will be presented from May 27 to June 12 at the Opera House by Cape Town Opera, in association with Den Norske Opera and Staatstheater Nürnberg. Cape Town soprano Angela Kerrison as Magnolia and American heartthrob Brad Drummer as Gaylord Ravenal will lead the star-studded cast. The new production by Janice Honeyman of the Oscar Hammerstein and Jerome Kern classic musical, based on the novel by Edna Ferber, reveals the human condition in all it's complexity, where heartbreak and gambling are part of life but love prevails. Cape Town Opera's international touring production of
Show Boat
will head for Nürnberg and Oslo in July. The show, with a cast of 61 singers and dancers, the Philharmonic Orchestra of 40 and a technical team of 15, is the largest production of its kind to tour abroad. Book at Computicket or Artscape Dial-a-Seat tel
421 7695.
---
This work is licensed under a Creative Commons Attribution-NoDerivatives 4.0 International License.
Please view the republishing articles page for more information.
---