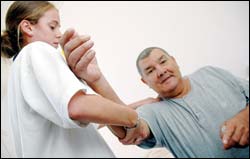 Reaching out: Physiotherapy student Michelle Gould helps stroke victim Peter James of Bonteheuwel with a few stretches to increase his mobility.
Because of a stroke Peter James, also a diabetic and an amputee, finds it a strain to even lift his arm. Without someone propping him up, moving around is pretty much out of the question as well, so he is as good as confined to his home in Bonteheuwel on the Cape Flats.
He gets regular visits, however, from volunteers from the Caring Network, an NGO in the community that provides home-based services modelled on basic nursing practices. These volunteers help families of the home-bound like James with tasks like bathing, changing wound dressings and making sure they take their medication.
Ideally, James should also receive some sort of rehabilitation care so that, if little else, his condition doesn't worsen. The Caring Network volunteers are, despite their good hearts, not equipped to provide that kind of service, though.
The government's healthcare plan encourages home-based care so as to lighten the load of secondary and tertiary care institutions like clinics and hospitals. The Caring Network, for example, is funded in part by the state.
But, often, patients like James would slip through the cracks in the healthcare plan and would get little or no rehabilitation care, explains Soraya Maart, a lecturer in the UCT Division of Physiotherapy who has an interest in community-based rehabilitation. "They were being lost in the system," she says.
But, fortuitously, the gaps in organisations like the Caring Network have dovetailed nicely with the search by UCT's Division of Physiotherapy for more service-training sites for its growing intake of students. While students have always been involved in community outreach projects, says Maart, the division has now joined forces for the first time, on a trial basis, with NGOs like the Caring Network to lend a hand.
Per this agreement, third-year students are tagging along with Caring Network volunteers to homes in Bonteheuwel and Woodstock this semester. Here, they then massage and rub tight and sore parts and put patients through some essential physiotherapy stretches.
But what happens once this particular block of their studies is complete and students return to their classes? To make sure that they don't simply leave patients and carers stranded, the students are also required - it counts towards their marks - to pass a few tricks of their trade on to the carers.
So, in workshops they run, they teach the carers some basic grips and holds, and how to safely lift and move patients.
In their work with both patients and the carers, the students get to hone their physiotherapy techniques. But they're also learning a few things not covered in their textbooks.
"The most important thing is that we get to see where patients come from," says Michelle Gould. "We generally only see them in hospitals, and then we give them some exercises. But if they can't apply them at home, then it's pretty useless. So it's good to see where they come from and the situations they're in."
That's a lesson that could come in handy.
---
This work is licensed under a Creative Commons Attribution-NoDerivatives 4.0 International License.
Please view the republishing articles page for more information.
---