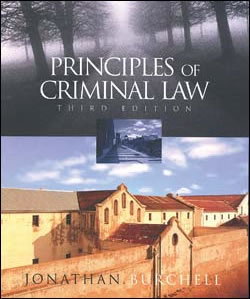 Law book gets major update
Professor Jonathan Burchell, head of the Department of Criminal Justice, and publishers Juta Academic have released the third edition of Principles of Criminal Law, a 1 000-page text on the general principles of criminal liability, common-law crimes and certain statutory offences in South Africa. The book - which Burchell wrote without John Milton, his co-author on the first two volumes - comes some eight years after the second edition, a period over which there have been some major developments in the field. With that in mind, Burchell has now included a substantial analysis of criminal law over the 10 years of democracy (with reference to the latest crime statistics), a chapter on how the Constitution is shaping the principals and practice of criminal justice, brand new chapters on organised crime and corruption, and an evaluation of the proposed legislative reform on sexual offences. He also examines a number of recent landmark judgements and their influence on criminal law. "I estimate that about 40% of the book is either new or considerably reworked material," says Burchell.
Students ready take on the real world
After a year and a bit of cosy lectures and bookwork, second-year social work students will head out to counselling agencies and organisations over coming weeks for their first hands-on dealings with "real" clients and "real" problems. To lay the foundations for the occasion, the Department of Social Development, as it does with each second-year intake, held a ceremony recently where students formally took the department's Student Acknowledgement of Professional Conduct. While they will be closely supervised and given plenty of support during their fieldwork, the oath is designed to again draw student's attentions to their obligations towards clients. An accompaniment piece to their registration with the South African Council for Social Service Professions (SACSS), the oath touches on issues such as confidentiality, and the responsibilities and ethical principles of the profession. Assoc Prof André Smit, head of the department, is confident that students - many still quite young - will come through the process with flying colours. "It's quite a serious thing they're getting into," says Smit, "but we feel comfortable that they can cope."
---
This work is licensed under a Creative Commons Attribution-NoDerivatives 4.0 International License.
Please view the republishing articles page for more information.
---