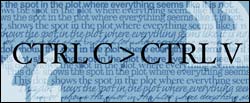 Friend and foe: Bacteroides fragilis.
A software system backed up by dedicated, full-time technological support are two prongs leading UCT's efforts to combat plagiarism on campus this year.
The university's plan to tackle plagiarism involves renewing UCT's licence for the Turnitin plagiarism prevention software system, as well as making technical support readily available - in the provision of a full-time Turnitin administrator, for the current year. Students are also directed to library staff, the Writing Centre and the Centre for Information Literacy, all of which offer facilities to help with referencing techniques. These moves come in the wake of the UCT's strong disciplinary stance on plagiarism.
Turnitin is a commercially-available plagiarism prevention software system that recognises unoriginal work in student papers, widely used used in both the US and the UK. Work needs to be submitted electronically or uploaded, to the Turnitin website, where it is matched against very large databases of current and archived copy on the publicly accessible Internet, as well as millions of published works, commercial databases, and large numbers of student papers and essays previously submitted.
A report indicating which sections are not original is generated automatically, whether the sections have been cut and pasted from the Web or copied from other student papers.
The university's decision to continue making Turnitin available to staff and students follows a pilot project late last year in which a small number of staff agreed to try out the software system to test for plagiarism in student essays.
Started in late August 2004, the project began with Turnitin administrator Greg Doyle demonstrating the use of Turnitin to interested staff members who were then asked to use and evaluate the programme. Their responses were surveyed in a brief questionnaire.
Associate Professor Karin de Jager of the Centre for Information Literacy, who managed the pilot project, felt the survey results, although limited, expressed "clear and serious confirmation for the continued support of Turnitin software at UCT".
Positive responses to the survey were that Turnitin represented a "credible, objective way of testing all work handed in and that all work could be tested in this way". Respondents felt that the use of this kind of software was becoming "internationally imperative" and that UCT "would be amiss" not to use it as well. It was felt that the software could help students to understand what was meant by plagiarism, improve academic literacy and provide practice in referencing, that it automated the otherwise difficult task of detecting plagiarism, and that it could pick up copying in work submitted to different departments. It also provided staff with a credible threat and played on students' fear of exposure.
Negative comments were that the process was laborious and time-consuming, that the system did not distinguish between legitimate and illegitimate copying, and that it was limited to scanning electronic text only.
While there was no "magic bullet" that would solve all the problems relating to plagiarism on campus, De Jager felt that Turnitin presented a "creditable, consistent approach to dealing with some of the most obvious manifestations of the problem". In large classes where simple copying was a real problem, Turnitin could function as a significant deterrent and also as a teaching tool, De Jager said.
She said her survey had shown "real support" for the use of Turnitin software, and that a number of staff members who intended to continue using the software this year. De Jager said lecturers in large classes such as Business Science were very interested in the software. The survey had also pinpointed the need for adequate and informed technical assistance to be readily available to support Turnitin users.
However, De Jager warned that plagiarism was a complex issue, which included not only deliberate cheating (such as cutting and pasting from the Web to outright copying of the work of other students), but also issues around language and proficiency in English. Some students struggled to express their own ideas, or did not understand the rules of citation, and were scared of accusations of plagiarism. Thus, certain forms of plagiarism could be seen as a pedagogic issue that lecturers needed to engage with.
De Jager felt that plagiarism at UCT could be divided into two very different, broad categories. The first was where students deliberately set out to cheat. "This may be for a number of reasons, like time pressure or because they think they cannot do the work (or do well) on their own. This kind of deliberate cheating is what software programmes like Turnitin aim to show up."
The second category was where students struggled with English and frequently with the academic discourse, and did not know what plagiarism implied, or how to deal with it. De Jager said students who found concepts and language difficult to understand, found it impossible to "say it in their own words" and resorted to cutting and pasting, or even to laborious copying.
"When students like these are accused of plagiarism, they are often very surprised, say they didn't mean to do anything wrong and that they have 'always' written their essays like this," De Jager said.
Students needed to be informed about the different forms of plagiarism, and warned that it was dealt with very seriously. They also needed to be shown how to deal legitimately with the words and thoughts of others, said De Jager.
Former high-school teacher Greg Doyle, based at CHED (the Centre for Higher Education Development), is available to assist staff to familiarise themselves with Turnitin. Staff members wishing to use the programme need to contact Doyle who will register them with Turnitin, and arrange the necessary login details.
Once registration is complete, the staff member submits work electronically to test for originality, and results are generated automatically. Work may be submitted - either by lecturers or by students, in various text formats, as short passages or paragraphs, long essays, or even as a group of essays. Class and/or assignment forums can also be created for the submission of papers.
Since the project was piloted late last year, Doyle said 60 instructors on campus were using Turnitin. More than 3 000 papers had been submitted for testing, and of these, 16% had been flagged as "highly copied", he said.
The software is also available to students via the two on-line learning environments, Connect and WebCT. Turnitin claims to promote originality in student work, to improve student writing and research skills, and to save teaching time.
---
This work is licensed under a Creative Commons Attribution-NoDerivatives 4.0 International License.
Please view the republishing articles page for more information.
---