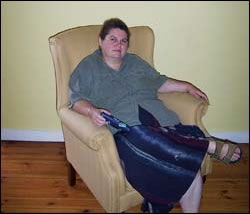 Stella Clark, at home shortly before her death.
Stella Clark, senior lecturer in the Language Development Group in the Centre for Higher Education Development (Ched), died peacefully on Sunday, March 20 at the Vincent Palotti hospital. An inspiring teacher and mentor, and a decisive and wise colleague, she will be remembered with great warmth by many in the UCT community.
Born in Gaberone, Botswana, in 1957, Stella completed a BA degree at UCT, majoring in English and drama, followed by higher diplomas in education (Unisa), and in library and information science (UCT). She graduated with an MA in education in the field of curriculum theory and development at the University of Michigan, Ann Arbor, in 1992. At the time of her death, she was in the final stages of completing a PhD, on the role of language in science, under the supervision of Professors Martin Hall at UCT and Peter Appelbaum of Arcadia University, Pennsylvania.
Stella's passion for teaching took root in the late seventies and through the eighties, working as an English teacher in secondary schools, including Steenberg, Spes Bona and Trafalgar on the Cape Flats, as well as Bridgton Senior Secondary in Oudtshoorn. She also taught in less "traditional" settings, such as a night school for adults at the St Francis Educational Centre in Langa. Her colleagues remember how, during a period of political volatility and surveillance in schools, she took a consistently principled stance in supporting learning and the well-being of her students. In the words of Professor Melanie Walker, a close colleague and friend: "Those who were fortunate to work alongside admired her dedication to her craft and to her students, and respected the huge talent she had for effective teaching, making it seem deceptively effortless."
In the late eighties, she held a post as lecturer at Wesley College of Education in Salt River, where she taught English and speech to primary school teacher trainees. She loved working with pre-service teachers, and was able to continue this interest in a very different setting in the US, where she was adjunct lecturer in the master of arts programme at the University of Michigan, and supervised practice teaching in all subjects in high schools in and around Detroit.
Professor Gary Knowles remembers Stella as "simply the most influential person" during the early years of his professoriate, when her keen intellect and her enduring spirit helped them work through many complex and perplexing issues at Michigan.
In 1996, Stella came home to Cape Town, and joined the Language Development Group in the Academic Development Programme in Ched, where she was a valued colleague until her death. Most of her teaching was in the academic literacy courses, Language in the Humanities and Academic Literacy in the Humanities, for students from educationally disadvantaged backgrounds. Stella would spend hours counselling individual students to facilitate their linguistic, academic and social transitions into the university. If she felt that they had been dealt an injustice, she would regularly go into battle on their behalf, and would generally win! She developed a reputation as a gifted and dedicated teacher, and many of her students have stayed in contact with her since leaving UCT.
Stella faced cancer head-on, as she did all aspects of her life. Supported by her loving husband and colleague Kevin Naidoo, she carried on working for as long as she could and continued to care for and be involved in the lives of her family and friends. Our deepest sympathies go to Kevin and their sons Jesse and Eamonn. A memorial gathering will be held on Monday, April 4, 2005 from 13h00-14h00 in the Richard Luyt Room (next to Nescafé) in the Otto Beit Building, upper campus. In her memory, Kevin has established the Stella Clark Teachers Fund to recognise teaching excellence in South African high schools. Donations can be made to: Stella Clark Teachers Fund, Absa Bank, Claremont. Clearing code: 632005; Account number 9138748880
Lucia Thesen and Dr Rochelle Kapp, Language Development Group CHED
---
This work is licensed under a Creative Commons Attribution-NoDerivatives 4.0 International License.
Please view the republishing articles page for more information.
---