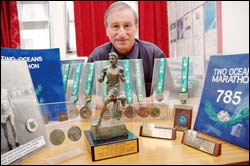 Twenty and counting: Prof Kevin Rochford, who, since 1976, is yet to cancel a lecture because of illness, with the hoard of medals and mementoes he's picked up at the Two Oceans Marathon over the past 30 years and more.
No fewer than 18 UCT runners finished the Two Oceans 56km ultra marathon in medal time. Cardiologist Dr Andrzej "AO" Okreglicki was the first man in, clocking 4:39:54, beating Professor Kevin Rochford's UCT veteran's record of 4:52:46 recorded in 1990. In turn, Rochford, who turned 60 in November last year, set a new - and first - UCT grand master's record of 5:46:43. Good Hope FM breakfast presenter Nigel Pierce, who also runs in UCT colours, proved he is more than just a loudmouth with a licence, completing the race in a very respectable 4:55:39.
Former Comrades winner Dr Lindsay Weight was the only woman in the club to finish the ultra, doing so in a sprightly 5:19:00. She bettered her own UCT veteran's record of 5:46:06, which she set last year, by some margin.
The club also boasted an impressive turnout in the half marathon, with all of 76 runners finishing the race under the 2:35:00 cut-off. Nelson Bass led the UCT pack in the event, coming home in a very good 1:13:50. A number of women also did very well, with Unice Vorster recording a personal best (known as a "PB" among the running cognoscenti) of 1:30:14 as she finished the race 23rd overall among the women.
The 2005 Two Oceans was also a special one for Rochford, a lecturer in the School of Education, who finished his 20th ultra marathon this year. To mark the milestone, the race organisers awarded him a special "double blue" race number. Rochford is but one of six survivors from the 1972 Two Oceans, the third, to run this year.
As he's done for the past 16 years, he again ran his race on Good Friday along with a group of 26 ultra-marathoners and an identically-sized band of half-marathoners who choose, for religious observances, not to run in the main Saturday event. Rochford and fellow runner Eric Webster were instrumental in getting this concessionary race, a world first, off the ground in 1990. Finishers also get medals and their times are included among those of the Saturday hordes. The Friday group includes Orthodox Jews, who boasted a woman for the first time this year, and Seventh Day Adventists (Rochford, a Roman Catholic, married a Seventh Day Adventist).
To thank Rochford for his initiative, the runners presented him with a special statuette this year.
With less brouhaha and hardly any cheerleaders lining the streets, the race is perhaps more daunting than the Saturday counterpart. But the event also has a special feel to it. For one thing, the runners are started off with a prayer in Hebrew. "The Friday race has immense spiritual underpinnings," says Rochford.
And, in keeping with the Christian event remembered on Good Friday, the ultra also takes on religious significance. Which helps when it's time to cross some of the race's infamous "hills". "Suddenly Chapman's Peak becomes like Mount Golgotha," Rochford half-jests, "and Constantia Nek, which is when you're really struggling, is a little bit like Mount Calvary."
Faith may not exactly make molehills out of the Two Oceans mountains, but, more than 30 years after his maiden run, it certainly keeps Rochford and his fellow faithful going.
---
This work is licensed under a Creative Commons Attribution-NoDerivatives 4.0 International License.
Please view the republishing articles page for more information.
---