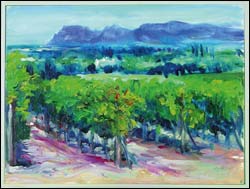 Mollie Townsend at Irma Stern
Mollie Townsend's exhibition Light in False Bay will be on view at UCT Irma Stern Museum from April 13 to 30. A lavishly illustrated book with the same title, featuring 60 paintings of False Bay from Cape Point to Hangklip, will be launched and available for sale. The artist-author lives in Fish Hoek, and her work demonstrates her love of the impressionist style of painting impromptu studies of places and things in and around a lovely bay. The Irma Stern Museum is situated in Cecil Road, Rosebank, and is open from Tuesdays to Saturdays from 10h00 to 17h00. For further details call (021) 685 5686.
UCT Book Fair
The UCT Book Fair will showcase over two dozen publishers and booksellers' stalls where a huge variety of titles from academic to general interest will be on sale. The fair will be open from 11h00 to 16h00 daily from April 11-15. Entrance is free.
Highlights include an exhibition of Mandela cartoons by one of SA's top cartoonists, Zapiro, who will be there to open the exhibition and talk about his upcoming book. Acclaimed poet Ingrid de Kok will give a reading of her work, along with other renowned authors and up-and-coming local literary talent. There will also be book launches and panel debates, where authors and publishers will consider the future of SA publishing and the problems of multilingual literacy. There will be talks on everything from Buddhist cookbooks to using literacy to rehabilitate prisoners. Free workshops will focus on how to get published and creative writing.
The complete programme can be viewed at www.africanstudies.uct.ac.za/bookfair.
Survivor's check on wellness
Autumn making your joints creak and that bad knee act up? Is marking stacks of essays giving you a crick in the neck? Can't stand the idea of another winter huddled outside among the pigeons, just for a ciggie? Then it's time to take yourself off to the Wellness Week, which will be hosted in the Graduate School in Humanities quad once again, courtesy of the Organisational Health Unit, this time from April 13-15 between 11h00 and 15h00.
Just 20 minutes with the reflexologist will get you feeling energised again. Booking is essential, so reserve your place for reflexology, therapeutic massage, shiatsu, an eye test or an aromatherapy session, by contacting Ottoline Clapham at e-mail oclapham@bremner.uct.ac.za. Among the exhibitors that will provide walk-in checks are Smokenders and Weigh Less. A team from the UCT Lung Institute will advise you on asthma, allergies or smoking-related lung diseases. You can also consult the chiropractor, dietician or representative of the Diabetic Association of South Africa.
Survivor of The Argus or Two Oceans? Then you won't be afraid of the Body IQ fitness assessment, or the lung-function test, conducted by the UCT Lung Institute. (Recommended for couch potatoes, too.) Or visit the Sport Science Institute stand to have your blood pressure checked. If you don't know your HIV status, now's the time to check. It's confidential and convenient as you can do a web-based booking through Cell Life on site: www.cell-life.org.
Visit the Aleo Ferox and Sportron stands for all kinds of goodies. And for peace of mind, you can even draw up a will, guided by a Sanlam estate and trust consultant or discuss the group scheme preferential rates on your bond or the service fee on your cheque account with the Standard Bank consultant.
Public dialogue
The Faculty of Humanities, in collaboration with the Unilever Ethics Centre at the University of KwaZulu-Natal, Pietermaritzburg, will host an event titled South Africa: The Unfinished Story at 17h00 on April 6 in the Graduate School in Humanities Building. This is the first in a series of innovative discussions, organised by Assoc Prof Pumla Gobodo-Madikizela, that aim to stimulate public dialogue about issues affecting different sectors of South African society. A select panel will lead discussion on the themes of amnesty and the question of presidential pardon; the story of the "disappeared" in South Africa; the life of former conscripts of the South African Defence Force and former combatants in the liberation forces. Panelists include: Yasmin Sooka, Director of the Foundation for Human Rights in South Africa; Dr Alex Boraine, Founding President of the International Centre for Transitional Justice; Antjie Krog, multiple prize-winning writer and poet; Jonathan Shapiro ("Zapiro"), who was the first cartoonist to win a category prize in the CNN African Journalist of the Year Award; and Thembi Simelane, whose sister's story of "disappearance" was told to the Truth and Reconciliation Commission.
---
This work is licensed under a Creative Commons Attribution-NoDerivatives 4.0 International License.
Please view the republishing articles page for more information.
---