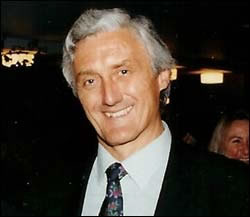 Peter Irvine.
Irvine died as he had lived, setting a demanding standard for himself, and doing his utmost to match it.
He was an indefatigable competitor and his own hardest taskmaster. Inactivity was anathema to him, and there was not a wasted moment in his life. It made him the quintessential action man - of boardroom and sports arena - and an energetic figure in wide-ranging civic activities that broadened his influence, and respect, far beyond his professional domain.
Irvine, a farmer's son, matriculated in 1962 from Maritzburg College, and completed a BSc in civil engineering at the University of Natal in 1968. After gaining an MBA at the University of Cape Town a year later, he founded a property company in the early 1970s that grew to form the substantial Atlas Group whose successes are synonymous with Irvine's dynamism.
In sport, he earned Natal and Western Province colours for squash, devoting much time and money to helping young players.
He was a member of UCT Council and served on several UCT committees, chairing the building committee for a number of years. He was also a member of the board of the Graduate School of Business, a trustee of the UCT Retirement Fund, and chaired the Baxter Theatre Board and its fundraising committee.
Henry Steyn, a close friend and long-time business partner, notes that Irvine was "particularly good at creating opportunities from situations which were in distress, and complex, and generally unattractive to others". His ability "to generate a deal from a base with little or no substance, and then turn it into a lucrative asset, became legendary".
Nicknamed "red ant", chiefly for his industry - though rueful colleagues testify to "a sharp little nip from time to time, where it hurt" - Irvine never expected anyone to do what he wasn't prepared to do himself.
In quieter ways, his actions were tender and affecting when they counted most. His daughter, Nicola, recalls her mother, Penny, returning home from a spell in hospital to find that her husband had planted a hedge of lavender "so she could recover to its scent and beauty". It was, she says, "the side to our Dad that made us love him most".
Irvine leaves his wife Penny, four daughters, Nicola, Philippa, Katie and Pauli, and son-in-law Paul Johnson.
(This is an edited version of an obituary by Michael Morris, Cape Argus)
---
This work is licensed under a Creative Commons Attribution-NoDerivatives 4.0 International License.
Please view the republishing articles page for more information.
---