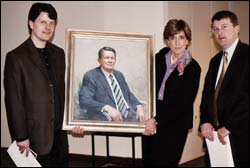 Special gift: Daniel and Matthew Pifer, Alan Pifer's sons, with Susan King of the Carnegie Corporation.
Alan Pifer
, the Founding Chairman of the UCT Fund, and a past president of the Carnegie Corporation, was honoured in New York recently for his many contributions to UCT and the UCT Fund over the years.
At the event on February 2, it was also announced that a US$50 000 donation to the Chancellor's Challenge 175 campaign from the UCT Fund in the name of Pifer would be matched by the Carnegie Corporation. This follows a decision last year to honour Alan Pifer by naming a grant from the UCT Fund after him to celebrate the university's 175th anniversary.
The ceremony took place at the Carnegie Corporation's headquarters in New York and was hosted by Carnegie president Vartan Gregorian. Also in attendance were current and former members of the Carnegie Corporation and directors of the UCT Fund.
Although Pifer could not be present, a special painting of himself was handed over to his sons Matthew and Dan, who have asked that it be displayed in Bremner Building.
Deputy Vice-Chancellor Prof Martin Hall said the two donations to the Chancellor's Challenge 175 marked the continuing commitment of the Carnegie Corporation to UCT and the hard work of the UCT Fund in New York on UCT's behalf.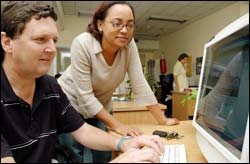 New tricks: Pathbreaker Kevin Winter gets a short tutorial on how to log a Helpdesk call via the Internet from ICTS consultant Tina Charles.
The ICTS Helpdesk
toasted another milestone recently when it logged call reference number 300 000 on its HEAT database. The landmark "call" was actually an e-mail from Kevin Winter, a lecturer in the Department of Environmental and Geographical Sciences, who needed to have a few Novell accounts created. To mark the occasion, ICTS presented Winter with an optical mouse. The gift hinted at another recent Helpdesk innovation - logging calls via the ICTS website (
www.icts.uct.ac.za
). Here users can scroll over the Helpdesk link and click on "Log a Call", and access a problem-specific form that they complete. The call is processed faster as it immediately directed to a specific team for action. It's hoped, notes Helpdesk manager Jean Knaggs, that the Internet call system will soon replace the sending of e-mails to
helpdesk@its.uct.ac.za
. "It's much faster and much better," she says.
---
This work is licensed under a Creative Commons Attribution-NoDerivatives 4.0 International License.
Please view the republishing articles page for more information.
---