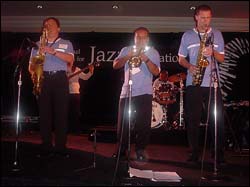 (From left) Assoc Prof Mike Rossi and UCT students Shaun Johannes, Vaughn Fransch and Dan Shout strut their stuff.
Jazz artists steal show in US
Assoc Prof Mike Rossi and students Vaughn Fransch, Shaun Johannes and Dan Shout wowed audiences at the 32nd Annual International Association for Jazz Education (IAJE) Conference in Long Beach, California, in January. The four teamed up with three students and Darius Brubeck of the University of KwaZulu-Natal to showcase South African jazz at the event, the world's largest jazz education conference with some 7 300 jazz enthusiasts attending. The troupe's featured performance in the Seaside Ballroom of the Long Beach Convention Centre earned them a standing ovation. IAJE past-president Ron McCurdy made a guest appearance with the group, and was very impressed with the South African students, reports Rossi. The members of the UCT/UKZN group wish to thank the Department of Arts and Culture (DAC) for their generous contribution to this project and for making the trip possible. Rossi also thanks UCT's Department of Research and Innovation and Angie Scheepers at the South African College of Music for their assistance.
RAG in Mowbray
The historic Mowbray Town Hall will be the prime location to view the UCT RAG floats procession that is abandoning Adderley Street after 80 years and relocating to the Main Road in Rondebosch and Mowbray on March 12. It will coincide with the Mowbray Fair where punters can sample the best of Texmex, Chinese, African and Greek food prepared by local businesses, enjoyed with drinks on the front lawns of the Town Hall. There will also be entertainment by brass bands, pipers, an African marimba band and dancers, singers, gymnasts, police dogs, martial arts and magicians.
Ward Councillor Owen Kinahan, who is the driving force behind the Mowbray Fair, said: "We are particularly thrilled about being a side-show to the UCT RAG floats procession on the same day. This is a major event for the southern suburbs and will be right on the doorstep of the community that hosts the university. It is expected that the procession will pass the Mowbray Fair at about 16h30 and we think it will be a great ringside seat".
Solving problems: Students from several township high schools got together with students from St Bernard's Convent School in the UK to celebrate a two-week cultural exchange programme.
Cultural exchange fosters diplomacy
The South African Education and Environment Project (SAEP) recently hosted a traditional South African braai at the UCT Tennis Club to celebrate the completion of a two-week cultural exchange between several township high schools and the St. Bernard's Convent School in Slough, UK. A group of 18 St Bernard students and six teachers visited Cape Town to conduct a Model United Nations General Assembly (Munga) with over 30 South African students. A Munga is an authentic simulation of the United Nations General Assembly, where participants play the role of ambassadors of the member states and debate current issues facing the UN.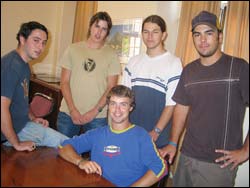 Whiz-kids: UCT's winning team in Microsoft SA's Project FireFly competition are (from left, back) Christo Christodoulou, Shane Thorp (team leader), Robert Stothers and Lee Ingram. Seated is Adrian Hope Bailie.
UCT team takes top honours at information systems competition
Five UCT information systems students have scooped the Western Province Development Category prize at Microsoft SA's annual Project FireFly competition. UCT's team, DigIt Solutions, came up with a real-time vehicle tracking system called V-Track, which allows both dealers and customers to keep tabs on vehicles once they leave the factory. Technikons and universities from around the country took part in the competition late last year. Projects were judged on three levels, namely development, solution and architecture. The UCT team walked away with a purse of R2 500 and certificates. Since DigIt's project solves a current problem experienced by the motor industry, the team also visited ForeCourt Express in Uitenhage, one of the largest motor ferry businesses in the country. The logistics company was so impressed by the system that they requested a copy of the group's video presentation.
Young Science Writer's Competition
Young scientists here's your chance to bridge the gap between the public's perception of scientists and the world of science itself. Scientists aged between 20 and 35 at South African higher education institutions are invited to write a 700-word article on any scientific or science-related subject to inform and entertain readers of the Saturday Star. Three R10 000 cash prizes are up for grabs as well as a trip to the American Association for the Advancement of Science's meeting in St Louis, Missouri in February, 2006. For more information and an online entry form visit www.saasta.ac.za/sciencewriters or e-mail sciencewriters@saasta.ac.za. The competition closes on May 31, 2005.
---
This work is licensed under a Creative Commons Attribution-NoDerivatives 4.0 International License.
Please view the republishing articles page for more information.
---