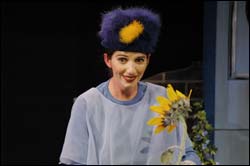 Treading the boards: Award-winning actress Sylvaine Strike as Mrs Swart in the comedy Black and Blue.
UCT alumnus Sylvaine Strike, perhaps better known as the sultry voice of Cell C, has scooped a major acting award.
Strike was named Best Actress in a Comedy for her portrayal of Mrs Swart in Black and Blue, at the second annual Naledi Theatre Awards for 2004 at a ceremony in Johannesburg.
This is not the first award for Strike who won the Vita Best Actress award in 1998 for her role as Lulu in Shopping and F**king.
"The awards are important because they keep you in the loop. They get you into the media and they provide the acting community with industry standards," explained Strike, who completed her UCT training in 1993.
Having established herself as an actress, voice-over artist and director, the physical performer has had a diverse career in theatre, television and film.
While her television roles include Suburban Bliss, Live@Five and Isidingo, Strike's film career has allowed her to work with acclaimed directors such as Michael Mann and Darrel Roodt. She has performed alongside Will Smith in Ali and Hilary Swank in Red Dust.
The mother of two-year-old Noa, Strike also directed and co-devised Baobabs Don't Grow Here, with award nominations at the Edinburgh Fringe Festival in 2002.
Besides teaching physical theatre at the Actor's Centre in Johannesburg, she, together with Brian Webber, founded The Fortune Cookie Theatre Company in 2000.
Strike says her time at UCT prepared her for the stress of the acting industry and that her lecturers continue to impact on her work.
"UCT's classical training gave me the foundation I needed and it laid the groundwork for the professionalism and diversity I would encounter later in my career. I carry all my lecturers with me all the time - I still hear and see them when I'm busy warming up."
For the LeCoq-trained performer it's now time to "plunge full-throttle" into a new production called Travellers, which will be opening in Grahamstown later this year.
But her name might be in lights again and her career might be taking off in a different direction. Strike has been called back for a second audition for the famous Cirque du Soleil after she was scouted at the Grahamstown Festival last year.
"Once acting is in your system, it's hard to get it out. Sometimes it beats you up and tires you out, but it is wonderful when things really start happening in your career."
---
This work is licensed under a Creative Commons Attribution-NoDerivatives 4.0 International License.
Please view the republishing articles page for more information.
---