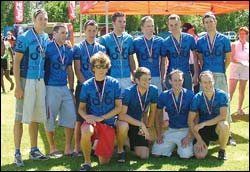 UCT cycling team
Two for SA underwater hockey side
Students Jamie Simpson (22) and Nic Venter (22) have been selected for the South African underwater hockey second team, aka SA A. The outfit will play squads from Australia and New Zealand in a Trans Tasman tournament in Durban in March.A stint in the side, seen as a development squad, will hopefully prepare Simpson, Venter and some of the country's other up-and-coming young players to vie for spots in the senior side to take part in the World Championships in England in 2006.
Rower wins biggie with SA Olympians
Recent UCT graduate Sam Pearson teamed up with Olympians Donovan Cech and Ramon di Clemente, as well as another promising talent, Maurice Coopmans, to win the coxless fours' Grand Challenge Trophy - the solid-silver cup is prized at over R1-million - at East London's Buffalo Regatta on February 19. Pearson and Coopmans have been earmarked to join Cech and Di Clemente in a possible SA fours boat that will, if all goes to plan, take to the water at the next Olympics. "We just have to make sure that we're of the same calibre as Donovan and Ramon," says Pearson. To ramp up his game, Pearson will be working out hard at Cambridge University, where he starts an MPhil in finance and economics in September. He plans to win a place in the eights boat that takes on Oxford in the celebrated boat race between the two universities in March or April every year.
UCT cyclists wheel to famous win
In November, the UCT team finished third - punctures and a broken spoke notwithstanding - in the Double Century Race, one of the glamour events on the Pedal Power Association (PPA) calendar. It was the first time in some years that the university had entered a squad in the 200km team time-trial. On December 17, the team of William Robinson, Jaco Cronjé and Ian McClarty took top honours at a PPA criterium at Killarney. Just 24 hours later, Robinson secured UCT's first ever PPA league win when he rode to victory at the association's last race of the year, held in the West Coast Nature Reserve outside Langebaan. Cronjé and Stuart Lemanski finished in the top six of the PPA's spring league standings, with Robinson and Neil Timm featuring in the top 20.
---
This work is licensed under a Creative Commons Attribution-NoDerivatives 4.0 International License.
Please view the republishing articles page for more information.
---