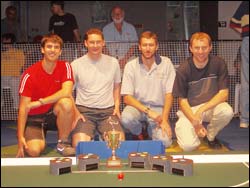 Robot soccer champs: (From left) Stephen Haddad, Graeme McPhillips, Prof Jon Tapson and Bjorn Prenzlow. (Absent - Ian Sweeney.)
It may not have the pizzazz and drama of the Professional Soccer League, but for four students from the engineering and the built environment faculty it was a tournament with plenty of thrall.
They won the 2004 National Robot Soccer Challenge in Durban, an annual event fielding teams of four robots - but without any human control. The field is observed by overhead CCTV cameras that feed information on the play to a PC. The PC runs a software strategy program that tells the robots, via radio, where to go and what to do.
Sponsored by the South African Council on Automation and Computation, the competition promotes research on robots at local undergraduate level.
The first challenge was in 2002 but until now no team had been able to score (blame it on systems integration). The UCT "lads" broke the drought, finding the net four times, their University of KwaZulu-Natal opposition failing to score.
"Parts of our system were better integrated," said team manager Professor Jon Tapson (electrical engineering). "We also had robots that could give the ball a heck of a kick and score from anywhere on the field."
The team was Stephen Haddad, Ian Sweeney, Graeme McPhillips and Bjorn Prenzlow (both PhD students in electrical engineering).
"The win was particularly sweet as the components were constructed from the ground up. The other teams used commercially-produced robots," Tapson said.
---
This work is licensed under a Creative Commons Attribution-NoDerivatives 4.0 International License.
Please view the republishing articles page for more information.
---