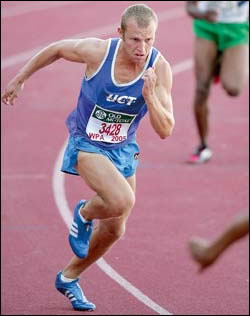 Going for glory: Divan Augustyn shows the rest of the pack a clean pair of heels as he breaks the UCT 400m-hurdles record at Green Point two weeks ago.
For some time now, UCT's Divan Augustyn has been threatening to give South Africa's gallery of top 400m hurdlers - Llewellyn Herbert and the like - a run for their money. That could well happen in 2005.
"Over the last few years I've been good enough to make it into the province side and things like that, but not good enough to get into the SA side," says the 22-year-old physiotherapy student. That's because of the competition. The SA outfit is widely held to be among the strongest in the world, with about seven or eight runners regularly recording sub-50-second times.
For Augustyn, those eight are a double-edged hurdle. They may keep him out of the medals and green-and-gold but, with no real competition in the local leagues, they also give him his best workouts. "I always feel that I run at my best when there's someone pushing me at the end," he says.
He's now inching towards that hallowed 50-second mark. At a Western Province Athletics league event at Green Point on February 12, he clocked his new best time of 51.15, bettering the UCT record of 51.2 set by Chris Breen, now an associate professor in the School of Education, way back in March 1968.
Augustyn will have to go even faster this year. He wants to qualify for the World Student Games in Turkey in August, and needs to record at least 50.4 seconds to do so. And, of course, he harbours dreams of European, world championship and Olympic glory one day.
He believes his best is yet to come, as do some of those on the sidelines. "This could be his year," says UCT club coach James Evans.
Herbert and the others should certainly keep on their toes.
Thinking about running, but need somewhere safe to do so? Then give the UCT Athletics Club a call. The club is launching two beginners and social groups this year, one of which will take a walk around UCT on Mondays at 12h30. For more info, e-mail athletics@sportsclubs.uct.ac.za or call Rosalie on 650 4234 (for info about the Monday group), or Marion at 083 419 5843 about the club's other get-fit and -fitter groups.
---
This work is licensed under a Creative Commons Attribution-NoDerivatives 4.0 International License.
Please view the republishing articles page for more information.
---