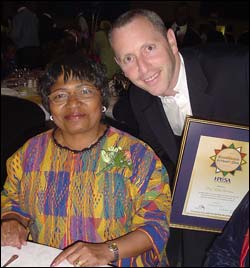 Carry on, doctors: Assoc Prof Wayne Derman with the HPCSA award he received from Minister of Health Dr Manto Tshabalala-Msimang.
As a sports physician, Associate Professor Wayne Derman of the UCT/MRC Research Unit for Exercise Science & Sports Medicine (ESSM) and the Sports Science Institute of South Africa (SSISA) has bagged some choice positions. He was, for example, flight surgeon and researcher on IT-billionaire Mark Shuttleworth's 2002 First African in Space mission in Russia. Then too he was appointed chief medical officer to both the South African squads that took part in the 2000 and 2004 Olympics, a task that at one stage included overseeing swimmer Natalie du Toit's recovery from the accident in which she lost her leg. For these and other roles, the Health Professions Council of South Africa (HPCSA) named him as one of only five winners of its Excellence in Health Care Awards late last year. "Professor Derman's service at the highest level of South African sport under the scrutiny of the local and the world's press has shown that he embodies those characteristics considered essential for the ideal physician," wrote ESSM director Professor Tim Noakes, who nominated Derman for the award, in his letter to the HPCSA. Similar praise came from Sam Ramsamy, president of the National Olympic Committee of South Africa (NOCSA), Shuttleworth and Western Cape Premier Ebrahim Rasool. Among the other winners of the HPCSA awards were two more UCT graduates, Dr Silke Dyer and Dr Nilesh Patel.
---
This work is licensed under a Creative Commons Attribution-NoDerivatives 4.0 International License.
Please view the republishing articles page for more information.
---