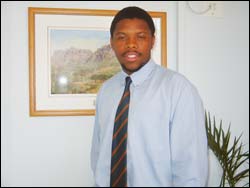 Climbing the ladder: Business science Extended Curriculum Programme graduand Thando Gobe believes in working and playing hard.
With his "work hard, play hard" attitude, it is not surprising that Thando Gobe is graduating with his business science degree ahead of schedule.
As a student on the Bachelor of Business Science - Extended Curriculum Programme (ECP), Gobe was supposed to take five years to complete his degree. But for the rugby enthusiast who believes in living a well-balanced life, four years was all he needed to make his mark.
"It's all about good time-management skills," he explained. "You have to work hard but you have to enjoy what you're doing. You have to try and grow in every area you are involved with."
And involved he was. Gobe had to allocate his time well because, besides his swotting, he also played rugby for UCT's third team and was heavily involved in the rugby club's transformation project. In trying to attract more black players to the game, Gobe busied himself with planning tours to the Eastern Cape, looking for sponsorships and communicating with stakeholders.
Gobe says he was fortunate in that he spent four years in Kopano and "didn't have to worry about cooking like his friends in digs", and that he had people like ECP programme coordinator Ramona Francis looking out for him.
"Ramona has been a big influence in my life. Despite an increase in the programme's student numbers, the high quality of service has remained the same. Ramona would always phone or e-mail inspirational messages before a test. It's nice to know someone is looking out for you, especially at university." Having secured a job already (he started working on November 1), there was little time to celebrate and enjoy the holidays.
As a trainee trust officer for Rondebosch-based wealth management company Personal Trust, Gobe acts a link between fund managers, trust officers and clients.
Offering investment management services to a small portfolio of high net worth individuals, the company currently has approximately R2-billion under management.
Asked about his career plans, Gobe responded: "Well, in the short term I'd like to learn from my mentors and add as much value as possible at Personal Trust - the ultimate for me is to be a director here. The idea is to give everything your best shot and if things don't go well, then you just have to try again and learn from every experience."
As Michael Jordan once said, "I can accept failure but I can't accept not trying."
---
This work is licensed under a Creative Commons Attribution-NoDerivatives 4.0 International License.
Please view the republishing articles page for more information.
---