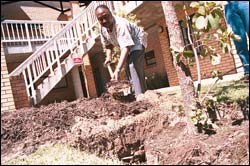 Green fingers: DVC Prof Thandabantu Nhlapo does the spadework at the All Africa House tree-planting ceremony in honour of Prof Wangari Maathai, the Kenyan environmental activist who won this year's Nobel Peace Prize.
In October, Kenyan environmental activist Professor Wangari Maathai was awarded the 2004 Nobel Peace Prize for her contribution to sustainable development, democracy and peace.
Taking a leaf out of Maathai's book, UCT's All Africa House and the Kenyan Students Community planted a tree in her honour at the residence, home away from home to many Kenyan students and researchers.
Deputy vice-chancellor for student affairs, Professor Thandabantu Nhlapo, did the sod-chucking honours, with students, board members and the executive providing moral support.
For the occasion All Africa House decided on the Dombeya rotundifolia, a wild pear tree widespread in sub-tropical parts of southern Africa.
"It is an interesting species," said Professor Mike Meadows, head of the environmental and geographical science department and among those at the tree-planting ceremony. "Perhaps rather like the women in whose honour it is being planted, the wood is very tough."
According to Meadows, the branches of the trees are used to make bows and implement handles. The Zulu people also use an infusion to treat intestinal ulcers, while Shangaan women brew a drink from it to induce labour.
Maathai, whose Green Belt Movement has spurred impoverished women in Kenya to plant some 30 million trees since 1977, would surely approve.
---
This work is licensed under a Creative Commons Attribution-NoDerivatives 4.0 International License.
Please view the republishing articles page for more information.
---