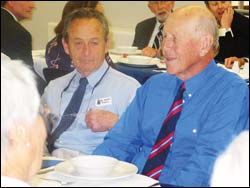 Valued employee: Letchemie Hesqua in one of the laboratories she looks after.
Five years ago the future looked bleak for Letchemie Hesqua.
Having just been retrenched from her job as a cleaner in the department of cardiothoracic surgery, the single mother of four faced the prospect of being unemployed and started to worry where her next pay cheque was going to come from.
"That is when the magic happened!" she exclaimed. "God stepped in at the last moment and opened the way in this very building."
Hesqua smiles as she thinks back to the day head of department, Professor Peter Zilla, called her into his office and offered her a job as a research assistant.
"I was speechless," she added. "I will be eternally grateful to Professor Zilla. I loved working in the department and I was thankful that I didn't have to go anywhere else."
Ensuring the department's laboratories are clean and ready for use by the technicians, Hesqua's responsibilities include the preparation of glassware and making sure all equipment is autoclaved before time.
"But I also enjoy visiting the hospital on errands. It's wonderful to meet and talk to different people and see what's going on there," she noted.
Hesqua was nominated as this week's Five-Star Staffer by Louise Bezuidenhout et al in the cardiovascular research unit.
Bezuidenhout says that despite the many demands and challenges of a busy department, Hesqua always manages to maintain an enviable degree of composure and dignity.
"In her own quiet and unassuming manner she accomplishes a multitude of tasks each day, while still sparing time for a friendly chat or a sympathetic ear. Her dedication to the department and her personal interest in all its members has made her a valued and much appreciated member of our team."
Asked about what keeps her motivated when times get tough, Hesqua pointed out that it's all about choice.
"I chose to focus on the good and forget about the negative," she says. "Each day is different to the next, some will be good, others will be bad, but I remain thankful for all the good in my life."
This good includes two grandsons who keep her very busy and being involved with her church, which sees her working with underprivileged children.
As a nature lover, Hesqua can think of nothing better than spending her weekends visiting nature reserves and mountains.
"The freedom of nature is medicine to my body, mind and soul," she declares.
She also confides that once she retires it will be time to make another dream come true.
That dream involves buying a caravan, setting off into the sunset and visiting different game reserves.
And as Eleanor Roosevelt once said, the future belongs to those who believe in the beauty of their dreams.
---
This work is licensed under a Creative Commons Attribution-NoDerivatives 4.0 International License.
Please view the republishing articles page for more information.
---