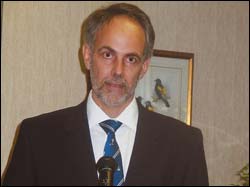 Taking flight: Prof Morné du Plessis at the launch of the DST Centre of Excellence in Birds as Keys to Biodiversity Conservation at the Percy FitzPatrick Institute.
The second of two Centres of Excellence was formally opened at UCT last week.
The DST Centre of Excellence in Birds as Keys to Biodiversity Conservation at the Percy FitzPatrick Institute, headed by Professor Morné du Plessis, was formally launched in the Niven Library.
It will build on the institute's 45 years of ornithological research experience in the Afrotropics, and on the islands of the Atlantic and Indian Oceans, focusing on understanding present-day patterns of biodiversity, and on predicting and managing the human impacts which can lead to biodiversity loss.
Centres of Excellence are hubs of cutting-edge research and innovation devoted to disciplines spanning health, the natural, physical and social sciences, and technology. These centres are funded by the Department of Science and Technology (DST), and administered by the National Research Foundation.
UCT is hosting two of the six centres announced recently. The other Centre of Excellence in Catalysis, led by Professor Jack Fletcher, was launched earlier this month. The remaining four centres are Invasion Biology (University of Stellenbosch); Strong Materials (University of Witwatersrand); Biomedical TB Research (Universities of Witwatersrand and Stellenbosch) and Tree Health Biotechnology (University of Pretoria).
The prestigious centres, which integrate smaller and related research initiatives into single programmes, come with substantial funding, up to R50-million over 10 years. This will underwrite strategic research projects that will accelerate innovation and research as well as human capacity-building through education and training.
At the launch last Tuesday, Du Plessis said 10-year funding was "virtually unheard of" and would allow the centre to move from research into the realm of discovery. He said the centre would focus on two key areas, namely understanding and maintaining biodiversity.
Departments that host DST Centres of Excellence will attract sought-after projects and the pick of top-flight postgraduate students, bringing the country's capacity and research outputs in these disciplines on par with the best in the world.
The DST Centres of Excellence have five main mandates. These are to: develop research and create and advance new knowledge; provide access to a highly-developed pool of knowledge; provide and maintain databases; promote knowledge sharing and transfer; and collaborate actively with reputable individuals, groups and institutions.
---
This work is licensed under a Creative Commons Attribution-NoDerivatives 4.0 International License.
Please view the republishing articles page for more information.
---