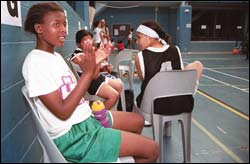 Give them a hand: Some of the students at the recent Hoops 4 Hope basketball clinic.
Sport can either create or break down boundaries. Recently, a group of students from the UCT basketball club, headed by club chairperson Kornelia Semmelink, worked hard to make sure it's the latter.
Semmelink, after being approached by her provincial coach, Thierry Kita, set up a one-day basketball clinic at Cape Technikon two weeks ago, hosted under the banner of Hoops 4 Hope. Founded by American Mark Crandall in Zimbabwe in 1994, the not-for-profit organisation dedicates its work to the support of youth development in southern Africa. It does so by assisting schools and community groups with their sports, education, health and conflict-mediation programmes. "Our aim is to use sports, mainly basketball, as a means to occupy and reach the youth in troubled areas," says Semmelink, who is a member of the organisation.
The Cape Technikon gathering was the closing event for Hoops 4 Hope's 2004 work in Cape Town, multi-tasking as basketball clinic, tournament and life skills workshop. Some 80 school kids, aged between 12 and 14, from around 10 schools in Cape Town were bussed to the technikon. To bridge cultural and class divides, Hoops 4 Hope made sure the Manenberg and Khayelitsha students played and learned shoulder to shoulder with their Rondebosch and Claremont counterparts. "We mixed everyone up so they could get used to each other," says Semmelink. "To pre-empt conflict, so to speak."
UCT students, most from the basketball club, served as everything from coaches and physiotherapists to cooks. In turn, Hoops 4 Hope's "Most Valuable Players", or MPVs, teenagers from nearby townships who are trained to assist the organisation with its projects, ran the morning's session on conflict resolution. For this, they had been coached by the Centre for Conflict Resolution at UCT, and worked off exercises provided by the centre.
And for one day at least, as the youngsters shimmied and jumped and ate together, the world seemed a better place.
---
This work is licensed under a Creative Commons Attribution-NoDerivatives 4.0 International License.
Please view the republishing articles page for more information.
---