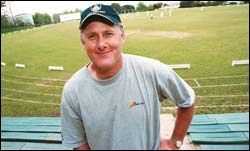 Brian McMillan
By Brian McMillan
The 2004/2005 cricket season has started and it promises to be a good one.
After a disappointing end to the last season (UCT lost the league on a technicality, but as they say, "Rules are rules") our cricketers are motivated, disciplined and prepared for what lies ahead. Practices have been in full swing since mid-July and the motto for the season is "Play positively". The team has youth on its side and has never been afraid to chase a seemingly impossible target - in fact it's one of our big strengths. UCT is known for choosing to bat second and allowing our opponents to set us a goal, no matter how big.
Unfortunately, the first game of this season petered to a draw as "positive cricket" did not seem to be the motto of our opponents. Refusing to declare and set us a target, they left us no other option but to call off the game. A huge pity, seeing that we decided to declare overnight with only six men down in the interests of making a game out of it.
Players to watch out for this season are batsman Doug Worth, and bowlers Farhaan Behardien and Deane Cooke. All three are part of the Western Province B side squad, with Worth and Behardien both having a successful game behind them already.
A new recruit in the form of keeper/batsman Graeme Marais, a former Boland player, also promises to do great things for UCT cricket.
In addition, national and provincial players are being encouraged by the United Cricket Board to play club cricket when they're available and this has lead to Graeme Smith and Rory Kleinveld (who has joined UCT from Victoria) being available to play one or two games this season.
Both players were available for the first day of the first game against Belville and both enjoyed huge successes with Smith scoring 103 and Kleinveld bagging six wickets. It is encouraging to see this level of support for club cricket.
As always, one of the major challenges facing us as a club is finance, but several sponsorship deals are being pursued and will hopefully come to fruition soon.
It is our ambition to become one of the forerunners in development cricket so that UCT is recognised as a "feeding channel" for the provincial and national sides.
This promises to be an exciting season for us as a club, and I hope to keep you updated on all the happenings of the season as we go along. Watch this space.
---
This work is licensed under a Creative Commons Attribution-NoDerivatives 4.0 International License.
Please view the republishing articles page for more information.
---