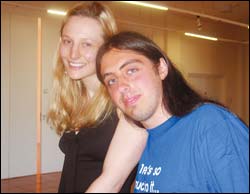 Snapshot: Marguerite "Marge" Black from UCT's Disability Unit pictured with photography competition winner Mark Oppenheimer.
It is necessary to challenge the stereotypical assumptions that people with disabilities are passive and unable to have sexual relations or form strong emotional bonds.
This is according to Disability Unit research coordinator Marguerite "Marge" Black, who announced the winners of the unit's photography competition at a lunch-time function early last week.
The competition, titled The Right of People Living with Disabilities to have Intimacy and Expressions of Love: Reinventing Sexual and Emotional Landscapes, was part of the unit's campaign on intellectual issues around disability.
The underpinning theme of the campaign is finding meaning and beauty in difference and aimed to thrust disability into the intellectual arena through incisive discussion.
"It's a confrontational and challenging subject that needs to be explored. We are happy that the competition provided the opportunity to initiate discussions in this regard," she said.
Third-year BA student Mark Oppenheimer took top honours, collecting a purse of
R2 500
.
Not bad for a law and philosophy student who views photography merely as a hobby. (He also received a special mention in the UCT 175th anniversary photographic competition for his submission African Landscape with Ivy League Aspirations).
Oppenheimer's colour picture of a naked, able-bodied woman in a wheelchair was the topic of much conversation. Titled Illicit Encounter, Oppenheimer hoped the picture would encourage audiences to move away from literal interpretations.
"I hoped my pictures would challenge the perception that disabled people are either asexual or mothering," he said. "They might be viewed as controversial, but we need much more of this out there. We are so hung up about our bodies, we need to learn to celebrate and enjoy them, even as able-bodied persons."
Oppenheimer said he would donate a certain portion of his winnings to charity and use the rest to purchase new photographic equipment.
The competition's submissions were of such a high standard that the unit decided to present merit awards in addition to the main prize. These went to Monique Maritz and Tarryn Masters.
---
This work is licensed under a Creative Commons Attribution-NoDerivatives 4.0 International License.
Please view the republishing articles page for more information.
---