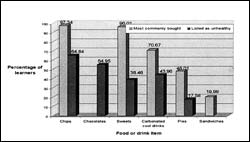 Comparison of the top five items most commonly bought from tuck shops.
Another angle on the prevalence of obesity in children comes from BSc (Med) honours in nutrition and dietetics student Catherine Pereira. Pereira conducted a study at a local school tuck shop and posed the question: are children eating unhealthily because of what is available to them?
The scene is familiar: the school ground littered with crisp packets, cooldrink cans and sweet wrappers - not a banana skin or orange peel in sight. Tuck shops, Pereira confirms, are notorious for their selection of unhealthy snacks. She feels it would be logical to intervene at this level, promoting healthier food choices among adolescents, choices that can then be maintained into adulthood. This is an especially important point.
The school had specifically asked the Division of Nutrition and Dietetics to look into the snacks being sold at their tuck shop to help them integrate aspects of nutrition into the school curriculum.
Pereira assessed the availability of healthy food and drink at the school, as well as pupils' attitudes towards healthier snacks.
"Most of the options available were found to be very high in energy, being high in either fat or added sugars, or both," she added.
In her graph, chips, sweets and carbonated drinks are the most commonly bought snacks at the tuck shop, with sandwiches at the bottom of the list.
In-depth questionnaires and focus group discussions assessed the children's attitudes towards the availability of a bigger variety of healthy food and drinks at the school and showed that they could not all accurately describe what a healthy snack was.
"They did, however, feel that the provision of healthier options would be possible, provided these met a specific set of criteria," Pereira continued. The healthy snacks had to include a variety of flavours to satisfy personal preference and had to include recognisable brands.
The research will continue at the school next year when another dietetics student will be implementing a wider variety of healthier snacks at the tuck shop, as well as a nutrition education programme, which Pereira says will be designed in the context of the recommendations of her study.
"We hope this work will provide an adaptable model that can be used by other schools for their tuck shops and education programmes."
---
This work is licensed under a Creative Commons Attribution-NoDerivatives 4.0 International License.
Please view the republishing articles page for more information.
---