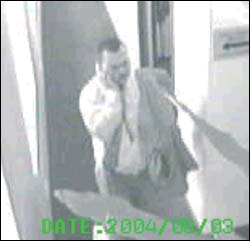 At large: A photograph of Elston Shawn Victor taken from surveillance footage.
Campus Protection Services (CPS) have asked the university community to be on the lookout for a suspect wanted for various thefts both on and off campus.
The police have issued a warrant of arrest for Elston Shawn Victor, with ID number 6712310101088 and last seen driving a red VW Jetta with registration number CY160 614, after he was identified in separate incidents.
From as far back as October 2001, Victor has been operating on upper campus where he stole a staff member's credit card which he used to purchase clothing and jewellery at the V&A Waterfront. He also pilfered a conference delegate's bag in July 2003 at the Graduate School of Business (GSB) and gained access to her room where he removed various items.
According to Patricia du Plessis, a supervisor in the crime investigations department, Victor was seen hiding the bag under his jacket and "elegantly leaving the venue".
In a more recent incident, Victor entered the Mowbray Golf Club on July 31, 2004, after which a member's wallet disappeared and his credit card was used to buy goods worth R7 000 from Hi-Fi Corporation in Rondebosch.
Going after larger items, the audacious suspect also stole a data projector from the GSB on August 3, 2004.
"He poses as someone attending a conference and remains in the venue after everyone has left. He then simply hid the data projector under his jacket," explained Du Plessis.
"As he is always smartly dressed, in a suit and tie and constantly talking on his cellphone, no one ever suspects or questions his presence."
Should you see the suspect, please contact CPS immediately on 650 2222/3 or alert the investigations department on 650 2226/8 or 2122 or 3800.
---
This work is licensed under a Creative Commons Attribution-NoDerivatives 4.0 International License.
Please view the republishing articles page for more information.
---