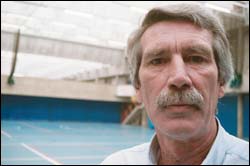 Ringing in the changes: UCT's John Donald helped usher tertiary sport into a new era.
They were gripping times.
As the '90s came and hints of political change were in the air, the welter of national and regional sports bodies - mostly black - that sprang up over apartheid had all come to a crossroads. The choice facing many was whether to sit down at the negotiating tables with old enemies and hammer out compromises (think the ANC's National Sports Council, or NSC), or whether to stick to their guns and their hard-line ideals (led in spirit by the South African Council of Sport, or Sacos). Most opted for the round table.
Among tertiary institutions, changes were also afoot. In February 1990, representatives from the South African Universities Sports Council (Sausc) and students from the South African Tertiary Institutions Sports Council (Satisco), an organisation that had parted ideological ways with Sacos and was increasingly aligned with the NSC, met at Wits University to parley on the issue of unification. These preliminary talks led to a watershed conference at UCT, a gathering that sported delegates from all student structures in the country - a mélange of acronyms - representing universities, technikons, colleges of education (both black and white), and even agricultural colleges. Out of this big meeting was borne the Tertiary Sports Conference Commission (TSCC), chaired by John Donald who had then just been appointed as director of sports administration at UCT after championing unification at Rhodes. The commission was tasked with drawing up a structure and constitution for an umbrella organisation, and to look at the sports imbalances at tertiary institutions, among other things.
Easier said than done. "There were vast, vast differences," recalls Donald.
In the end, it all came together. A draft constitution for the catch-all South African Student Sports Union (Sassu) was first submitted by the Interim Committee for South African Student Sport (ICSASS), which had taken over from Donald's TSCC after it had wrapped up its work. And in April 1994, at a meeting at the University of Port Elizabeth, all of 78 tertiary institutions officially constituted Sassu.
By then, UCT had seen its own unification process through. In August 1993 the university launched its branch of the South African Students' Sports Union (Sassu) - it got an early start - when the UCT arm of the South African Tertiary Institutions Sports Union (Satisu), the product of a merger between Satisco and another organisation, and the UCT Sports Unions signed an agreement. "1994 is most probably the beginning of our long struggle as we try to normalise the sporting environment both on our campus and in the disadvantaged communities," said Thokozani Vilakazi, formerly chair of Satisco and first chair of Sassu-UCT, the following year. "This will require strong dedication from our sportspeople and, in some instances, sacrifice."
Stuff you learn on the field.
---
This work is licensed under a Creative Commons Attribution-NoDerivatives 4.0 International License.
Please view the republishing articles page for more information.
---