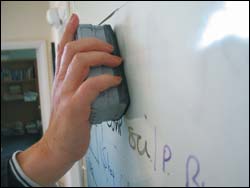 We got the first call last Friday. It was one o' clock. Just before the main lecture. The prof was late. His notes were old.
"Joel, it's Sipho. The chalkboard erasers – they've gone. Yeah. The whole university. No witnesses. No-one saw a thing."
"I heard they didn't terminate them, they just replaced them."
"I've heard it could be some dame from art. Got a liking for wood and felt. Horses and bones, too. Check it out."
"Joel, those erasers – I found them. It don't look good."
"Where?"
"Michaelis Art School. At the library. On the top floor. There's a pangolin on the rafters."
"Art? This is art?"
"I know what I like. This ain't art, Joel."
"How were they– how did you find them?"
"Bundled in plastic, thrust into a display case. Tagged. You know, with details of the knowledge they erased after years of tutorials and lectures. What do you think we're dealing with, Joel? Voyeurs? Peeping toms? Collectors of body parts? What kind of history is this?"
"It's worse than we thought. It's a gang. They've swept the university for historical artefacts." "Artefacts?"
"Curiosities. Antiquities."
"We're talking about the Classics?"
"Yeah. But they went through mathematics, pathology, archaeology, engineering, zoology. Any department that would let them in. They had a field day in anatomy."
"Anatomy. Always understood anatomy."
"I heard something about measurements. These artefacts were used to measure stuff; calibrations, disease, torque, viscosity. A reflection of academia over the years. How they taught, what they used. Big words – big ideas."
"It don't make sense."
"They call it an exhibition. To celebrate 175 years. It's history, Sipho. This is history."
"Curiouser and curiouser."
"You got that from Alice?"
"Alice? She a suspect? An accomplice?"
"Nah, she's from literature."
"They went through literature? All the epochs? Every genre? It's worse than we thought. They've got plaster books, with nothing in them. No words. They're talking about the authors who never got to the university. The knowledge and stuff that never got published."
"Check it out. This sounds dark."
"They say the one behind it is the kingpin. The prof. Pippa Skotnes. She's got some some sidekicks - Gwen van Embden, Fritha Langerman. They're in cahoots. They've got a lot of stuff in that library. They say it's been borrowed."
"Borrowed. Yeah, that's what they all say. And that pangolin. I suppose it's just sleeping."
"I'll pay them a visit. With some artefacts they may not be expecting."
"Yeah. I heard you have a PhD in people."
"Some people."
"Some university."
"Joel–"
"Yeah?"
"Watch out for the pangolin. The one up on the rafters. It's stuffed."
"They got to it?"
"Yeah, it's kaput. Capiche?"
(With apologies to Mickey Spillane. The exhibition, called Curiosity: Curating 175 Years of the Universtity, will reflect on teaching and adademia at UCT and will celebrate the university's 175th birthday. The exhibition is indeed an engrossing collection of material, which will be enhanced by writings and poetry from UCT's creative writers. Vice-chancellor Professor Njabulo Ndebele will officially open the exhibition at the end of October and it will run until March 2005. For more information, contact Prof Pippa Skotnes on 480 7112. Everything you hear is true. Watch this space.)
---
This work is licensed under a Creative Commons Attribution-NoDerivatives 4.0 International License.
Please view the republishing articles page for more information.
---