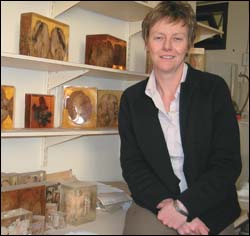 "In South Africa one woman is murdered every six hours at the hands of someone she loves, an intimate partner." - Prof Lorna Martin, new head of forensic medicine and toxicology at UCT.
Meeting Professor Lorna Martin for the first time, one is reminded of crime writer PD James' title Unsuitable Job for a Woman, an entrée into a world of crime and forensics. Forensic pathology is many things: always demanding, often distrurbing and usually onerous. But Martin is eminently suitable for her new post as head of forensic medicine and toxicology at UCT.
There are few more pleased by her appointment than her charismatic predecessor, Professor Deon Knobel, who trained and mentored Martin since her days as a master's student. At 39, Martin has the distinction of having made South African history. She is the country's first woman to head a forensic medicine department ("Perhaps even in the world", says Knobel). She is also one of the youngest department heads among the academic medical fraternity.
Martin hopes her appointment will pave the way for women in the profession and for further transformation in the country's tertiary institutions.
With Knobel's retirement, UCT's forensic medicine and toxicology department is an all-women cohort, also rare in medical circles. And yes, Martin believes there are special qualities a woman brings to the job. At the crime scene, it's noticing small things, like an oven left on, an unlocked door; important details about the person and their surroundings.
It was an early introduction to crime and mystery novels that lit a spark in the young Martin. She vacillated, "as young people do", about her career choice, but was driven by the option of doing something that was both scientific and caring.
A compelling fourth-year teacher of forensic medicine at Wits clinched her decision. At the end of fifth-year she did her elective in forensic medicine, and after graduating became a district surgeon, providing the essential medico-legal background that was to shape her professional and community work, particularly in the area of gender violence.
Her CV lists reams of research, training and community interventions in this arena and Martin's Women Demand Dignity White Ribbon Award in 2001 recognised her efforts to combat violence against women and children, and especially in protecting rape survivors.
Martin remembers first examining these cases in a side room at the Johannesburg mortuary, a grim place to send already traumatised women. It wasn't long before she established the first medico-legal clinic in the country (far from the mortuary), one that served as a multidisciplinary model for many others that were to follow and that provided a full range of rape services under one roof.
Martin is active in the PEP (Post-exposure Prophylaxis and Sexual Assault in South Africa) pilot study, a collaborative research project with the departments of gynaecology and obstetrics and psychology at UCT and the University of San Francisco. This observational study of 120 rape survivors will determine their eligibility rates for and acceptance of post-exposure HIV prophylaxis as currently provided, the rate of symptom development and the compliance rates with PEP medications and with follow-up HIV testing. Data will be used to design randomised, controlled, open-label chemical trials of three different PEP medication regimens.
A member of the newly-established Gender Health and Justice Research Unit in the Faculty of Health Sciences, Martin is also one of six researchers who conducted a collaborative national study for the MRC on female homicide in South Africa. The MRC Policy Brief was released in June this year, revealing startling statistics, gathered from death registers at mortuaries.
"In South Africa one woman is murdered every six hours at the hands of someone she loves, an intimate partner."
The term coined for this is "intimate femicide", which the researchers describe as "the most extreme form and consequence of violence against women".
The report Martin digs from the shelves of her new office in the Falmouth Building reads: "Not much is known about who kills South African women and under which circumstances. International studies reveal that intimate femicide is linked to a history of domestic violence, with the risk increasing at the threat of separation or actual separation."
And as a practising forensic pathologist (there are fewer than 29 registered in the country) her ear is closely tuned to news broadcasts. In the daily offerings of crime and homicide, including the recent murder of five-year old Rafique Hardien, many of the autopsies will be performed by Martin and her team.
"I always wonder if I will be the one on call when the body arrives."
Their jurisdiction spans the Peninsula and East Metropole, as far as Atlantis. They also consult in the Southern Cape Karoo area, as far as Murraysburg.
Martin and her forensic team see 3 000 to 3 500 cases a year, 600 to 800 per doctor. And then there is the service component, which includes testifying in court and the vital teaching component. Martin teaches undergraduate courses and is training two registrars, both women, one white, one black.
"We need to train more forensic pathologists for areas where the services have traditionally been poor: the rural areas. Justice isn't being served when a doctor misses something vital or doesn't have the skills needed."
Five to 10 years ago stab wounds were the main cause of traumatic death. Today it's gunshot wounds. Though she has conducted many autopsies and given evidence in a legion of court cases, the one case that she will never forget is the Sizzlers massacre, nine men killed in one night. Martin was the leading pathologist on the case.
"When we visited the scene, we didn't know who was who."
And to make her task more difficult, she could not remove evidence like gags, which made identification even more traumatic for the families.
Her job has also taught her not to assume anything. There was the curious case of a foreign student backpacker who collapsed while showering. There was no evidence of foul play or clue as to the cause of death. Had she been drinking, taking drugs, even shark cage diving? It was only after closer inspection of blood lividity (gravitational settling of the blood after death) and its redder-than-usual colour, that alerted Martin to the possibilities.
"It was indicative of carbon monoxide poisoning," she explained. Investigation revealed a faulty gas shower in the backpackers' lodge; leaking gas had accumulated and killed her.
Stress is something forensic pathologists learn to internalise, she says.
"You develop coping mechanisms, like trauma doctors."
To unwind she gets out as much as possible. She works in the garden, walks in the mountains and on the beach with her dogs. The who-dunnit novels still occupy her book shelf and she enjoys Silent Witness, the BBC drama about a professor who heads a university pathology laboratory. ("It's credible; you can't easily pick holes in it.")
She also enjoys a round of golf. However, her "average" handicap of 24 is probably not going to improve in the near future.
Making history carries additional responsibilities.
---
This work is licensed under a Creative Commons Attribution-NoDerivatives 4.0 International License.
Please view the republishing articles page for more information.
---