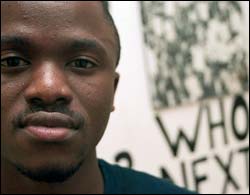 Reflection: Sicelo Mbambo and his SRC executive have enjoyed a good year at the helm, and have also paved the way for the new SRC about to be elected.
Sicelo Mbambo knows what student life is like without representation.
The school where he did his grade 11 and, after a stopover elsewhere, his matric, Cathcart High in East London, for many years ran on a prefect system and without a Students' Representative Council (or, in a school's case, a Learners' Representative Council). It was only during his grade-11 year that Mbambo and a teacher set up the structure, realising that an essential piece of a school's infrastructure was missing.
An SRC's raison d'être, says 22-year old Mbambo, now a third-year business science student at UCT and president of the 2003/2004 SRC, is to make sure that students' voices are heard. "Without an SRC, the university can make decisions without any input from students."
And if the last year has proven anything, it's that students have a stake in decisions. So, for instance, the SRC was able to block proposed changes to the 2005 calendar that were going to do away with study weeks and concertina exams into just 12 days. That plan has since been put on the backburner.
But there have been other success stories as well, some that also grabbed Varsity headlines. Prancing proudly among these is the signing-off of the new SRC constitution, and a revamped student governance model which, in line with the Higher Education Act, sees the SRC take over from the erstwhile Student Parliament (now the Student Assembly) as the senior student body on campus.
The incoming SRC executive, which will shortly be voted in and will officially take office on November 1, will have its own battles. Transformation will be foremost among the concerns that this new group and its successors will have to tackle for the next couple of years, foresees Mbambo. But other staple items like the curriculum, financial aid and the capacity of student governance will crop up regularly as well, he says.
What students need to do now is make a beeline for the ballot boxes in their numbers (interrogation week runs from September 6-10, while voting is scheduled for September 13-17) as they have done over the past two years. And this year they'll be spoilt for choice - some 40 candidates have come forward.
These 40 are the torchbearers. Now it's just up to the rest of the students to make their mark.
---
This work is licensed under a Creative Commons Attribution-NoDerivatives 4.0 International License.
Please view the republishing articles page for more information.
---