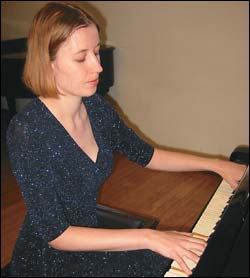 Upcoming musician: Kathleen Tagg.
UCT alumnus and solo pianist Kathleen Tagg will make her way to New York later this year where she will perform at the world-famous Carnegie Hall.
Tagg, who has been playing the piano since the age of five, has been selected by Young Artists International, an international organisation that presents New York debut recitals of classical musicians, to perform twice in the upcoming season. Her solo recital will take place on November 21 and she will accompany a flautist in December.
As one of the major international music competitions, held both in Europe and the United States, the organisation selects the very best musicians - mostly those starting out on professional careers or those still completing their studies - out of a very large number of entries at their annual auditions held in New York.
For Tagg, her UCT training has been instrumental in her rise to success. It was here that everything started coming together, she said.
"I had truly wonderful teachers - the late Professor Lamar Crowson until the end of my third year (I was with him since standard six) and Professor Graham Fitch who was my teacher for my honours year and until I went to the US. Without everything that he did for me, there is no way I would be where I am today."
Tagg graduated from UCT with distinctions for both her BMus and BMus Honours and went on to complete a master's in piano performance at the Manhattan School of Music. She will begin a doctorate there shortly.
Practising for up to seven hours on some days, Tagg gives credence to the old adage that practice makes perfect.
"My practising schedule depends on what is coming up and how many concerts are on the horizon," she explained. "I also don't count rehearsing with other people as practising my own things. So I might practise for around four hours on my own, but also have three or four hours of rehearsals with other people."
Asked how she prepares for big performances, Tagg says she tries to get enough rest and doesn't eat much on the day.
"I will try to eat a big breakfast and maybe have something small a bit later. I also don't practise too much on the day - that all comes before. On the day, I will probably spend just two or three hours going over a few spots but mostly I will relax for the rest of the time to conserve energy for the concert."
With a great interest in music in general, Tagg hopes to take part in as many different and exciting projects as possible.
"Because I need variety in my life, I try to attack the role of musician from many angles so that I don't stagnate. I'm going to go ahead with my doctorate now and at the same time trying to perform as much as possible. And when that's finished, then I'll think about coming home."
---
This work is licensed under a Creative Commons Attribution-NoDerivatives 4.0 International License.
Please view the republishing articles page for more information.
---