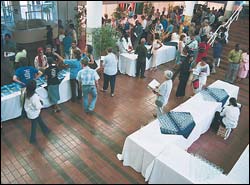 Orientation week: Parents visit UCT campus to see what is in store for their children. Increasingly, higher education institutions are expected to be publicly accountable for the quality of education they provide, hence a national programme of institutional audits.
Scores of UCT staff have been burning the midnight oil, furiously gathering information for a comprehensive, self-evaluation report in preparation for the first institutional audit to be conducted at a public university.
The institutional audit will culminate with the visit of an external panel in May next year.
As one of the institutions that has not been deeply affected by recent mergers, UCT is first on the list. Other newly-merged institutions around the country will be audited once they have had time to restructure.
The audit will be carried out by a panel appointed by the Higher Education Quality Committee (HEQC), reporting to the Council for Higher Education (CHE) in terms of the Higher Education Act.
The HEQC has already conducted pilot audits at the University of Pretoria, Vaal Triangle Technikon and the Midrand Graduate Institute.
The external audit panel will spend a week on campus from May 16 to 20 in 2005, interviewing role players about various aspects of the self-evaluation report that has to be submitted to them early in March 2004.
This article looks at the issues surrounding this mammoth national exercise, aimed at ensuring that minimum standards related to the management of teaching and learning, research and community engagement are put in place for all private and public providers of higher education in South Africa.
Q: What is an institutional audit?
A: The HEQC describes an institutional audit as an "improvement-orientated external evaluation of institutional arrangements for quality in teaching and learning, research and community engagement, based on a self-evaluation conducted by the institution".
The external evaluation will be conducted by a panel of peers and experts against a set of 19 criteria set by the HEQC, and other quality requirements set by the institution itself. This panel will report back to the institution with commendations on good practice and recommendations for improvement.
Q: Why the audit?
A: Because of greater access to higher education against a backdrop of shrinking resources, higher education institutions are under increasing pressure to provide greater accountability and efficiency in terms of public financing. This has led to stakeholder scrutiny of education and training, leading to the need for formal quality assurance arrangements such as this institutional audit. Many countries throughout the world have set up external agencies to assure quality in higher education and to promote public accountability.
Q: What will the focus of the audit be?
A: The audit will give a particular emphasis to the quality assurance arrangements in place for teaching and learning, research and knowledge-based community service. The HEQC believes that the primary responsibility for quality rests with higher education institutions themselves, hence the need to produce a self-evaluation report as the basis of this exercise.
Q: How does this affect academic freedom?
A: The HEQC's philosophy is that the primary responsibility for quality rests with the higher education institutions themselves. Thus the role of the HEQC is to provide external validation of the claims made by higher education institutions in their self-evaluation report.
Quality assurance is thus seen as a vehicle for keeping higher education institutions accountable for meeting the needs and expectations of the range of people they serve.
The external panel of experts will prepare an audit report on the effectiveness of the quality management systems after they have considered the self-report in the light of the evidence gathered during site visits and in relation to the university's own mission and plans. These reports will be made public after they are ratified by the HEQC board. Hence UCT will be evaluated within a framework provided by our own institution.
Q: How is UCT viewing this audit?
A: An Institutional Audit Steering Committee, established by the Senate Executive Committee, has identified certain outcomes of the audit to ensure that the exercise is a positive one for the institution. These include an analysis and evaluation of UCT's quality assurance systems and their effectiveness with the view to identifying strengths, challenges and best practices, in order to develop an improvement plan.
Q: Who is working on the self-evaluation report at UCT?
A: A wide range of people at UCT have been drawn into the process of collecting information for the self-evaluation report. These teams have included professional and support staff, members of the Centre for Higher Education Development (CHED) and some academic staff. They have been gathering information against the 19 criteria set by the HEQC. This information will be discussed at a special workshop of the Senior Leadership Group, conveners of the task team, and all academic heads of department, on September 27 and at a workshop of students on October 2. Once a consolidated draft self-evaluation report has been compiled it will be discussed by appropriate senate committees and ultimately by the full Senate and Council for final approval early next year. This portfolio is the document that the audit panel will use to evaluate the university in May.
Q: What is the core of UCT's mission statement?
A: UCT's mission is to be "an outstanding teaching and research university, educating for life and addressing the challenges facing our society".
The mission statement highlights that educating for life means "providing a foundation of skills, knowledge and versatility that will last a life-time, despite a changing environment".
The statement also highlights research-based teaching and learning; critical enquiry in the form of the search for new knowledge and better understanding; and an active developmental role in the cultural, economic, political, scientific and social environment.
Addressing the challenges facing our society means that we must come to terms with our past, be cognisant of the present and plan for the future, recognising our location in Africa and the historical context.
UCT is thus "committed to academic freedom, critical scholarship, rational and creative thought and free enquiry".
It is part of our mission to ensure that these ideals live; this necessarily requires a dynamic process of finding the balance between freedom and responsibility, rights and obligations, autonomy and accountability, transparency and efficiency, and permanence and transience; and of doing this through consultation and debate.
Q: Why is the mission statement important?
A: The HEQC wants to encourage institutions to actively contribute to the enrichment of the higher education sector and broader society. They will evaluate the university against its mission statement to see if it is carrying out its mandate.
Q: Once this audit is done, what happens next?
A: After the review, a report will be compiled and sent to UCT for comment. UCT will need to develop an improvement plan, based on the final report, and send a progress report 18 months later. Ultimately, institutions like UCT will be able to apply for self-accreditation status that will allow them to ratify their own programmes and courses. This status will be granted from 2007 and will be granted only on the basis of satisfactory evidence of the effectiveness of internal quality management systems and programme quality.
---
This work is licensed under a Creative Commons Attribution-NoDerivatives 4.0 International License.
Please view the republishing articles page for more information.
---