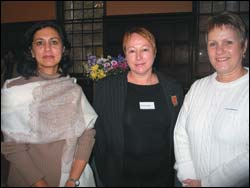 Postdoc party: The first cocktail party for postdoctoral fellows was held at the Postgraduate Centre. Among those present were (from left) DVC Prof Cheryl de la Rey, Linda Vranas, director of the Postgraduate Centre and Funding Office, and finance and administration manager, Sandy Dewberry.
A small but significant sector within UCT's academic community is gradually gaining recognition on campus with the launch of a Postdoctoral Research Fellows Association, which will be the first of its kind in the country.
In addition, Council has adopted a formal definition of postdoctoral fellows and approved memoranda of understanding and agreement between the university and postdoctoral fellows, and a grievance procedure to iron out any potential difficulties.
On the less formal side is a website, giving information for prospective fellows, and the Postgraduate Centre on upper campus where fellows can mingle or spend quiet time in the Rhodes Reading Room. They also have the use of the TB Davie Seminar Room that can house up to 45 people.
Postdocs, as they are more commonly known, fall into something of a twilight zone, neither students nor staff, but contributing greatly to the academic life of the university while they pursue their intellectual interests.
Yet although they frequently help out supervising students and giving lectures, their services have not always received the recognition deserved. And then, as non-members of staff, they have other headaches, such as difficulty finding parking along with the rest of the student masses, even though they may be the person scheduled to be at the podium.
Last year, UCT hosted 120 postdoctoral research fellows, who were funded to the tune of some R8.7-million. Ordinarily, they number around 100, and a significant number are based in the science and health sciences faculties.
Linda Vranas, director of the Postgraduate Centre and Funding Office, was instrumental in setting in motion some of the recent initiatives to give this sector more recognition, leading to the adoption of the memoranda of understanding and agreement, as well as the grievance procedure.
As part of this exercise, a survey was carried out among the 86 postdoctoral research fellows in October 2003. This survey probed issues such as entry into a postdoctoral fellowship at UCT, the broad experience of fellows and their longer-term career plans upon completion.
This survey yielded important information with regard to the current profile of the fellows, as well as in relation to their research and working activities.
Working closely with Vranas and her team were the postdoctoral fellows in health sciences who have already established their own association (the Health Sciences Postdoctoral Fellows Association, or HSPFA) to begin to address some of the issues facing their members.
Key in this initiative was Dr Lester Davids (currently chair of the HSPFA) and his executive who added to the hard ground work started in 2003, addressing the needs and gripes of the postdocs.
Davids believes the new Postdoctoral Research Fellows Association could be the beginning of something bigger, with similar associations being established at other universities around the country, thereby enhancing their networking capacity.
At a cocktail party for postdocs last week, he said that UCT had many firsts in its 175-year history, this initiative being yet another.
---
This work is licensed under a Creative Commons Attribution-NoDerivatives 4.0 International License.
Please view the republishing articles page for more information.
---