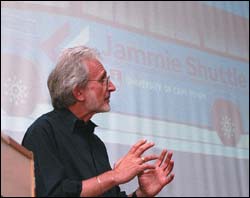 Wheeling in the changes: Prof Martin Hall gives staff and students a taste of the new transport system UCT hopes to introduce next year.
The short supply of parking on UCT's main campus has driven many to despair.
It has also been something of a "lightning rod" issue, to borrow the words of deputy vice-chancellor Professor Martin Hall, drawing plenty of criticism and pique. Solutions, or even proposed solutions, appeared to be as hard to come by as parking bays.
Until last week, that is, when the university released details of its new Access Management Plan, featured in the Monday Paper of August 8, that planners hope will offer some answers to the problem. And just a few days before the Monday Paper story, university executives, led by vice-chancellor Professor Njabulo Ndebele, Hall and John Critien, director of properties and services, hosted the first of three presentations and Q&A sessions on the plan, which includes the introduction of a fleet of new buses to take over transport duties from Jammie Shuttle (and to be run by an outside provider), a bunch of new routes that connect with the public transport network, and a hike in parking fees to lure staff away from their cars and onto the buses. (More information on the travel blueprint can be found at www.uct.ac.za under UCT News.)
Disappointingly, the information session did not pull in the crowd presenters had expected. Only some 40 staff and students were scattered around lecture theatre 2 in Kramer Building, so questions and concerns were few. Two more sessions have been scheduled, the first on August 16 at 13h00 in Jameson Hall, and a second on August 18 at 13h00 in the RW James Building. Comments can be made to comments@uct.ac.za.
But a poor turnout at the first session should not be read as lack of interest. The subject has, fittingly, generated plenty of traffic on the Employees' Union's electronic discussion board.
---
This work is licensed under a Creative Commons Attribution-NoDerivatives 4.0 International License.
Please view the republishing articles page for more information.
---