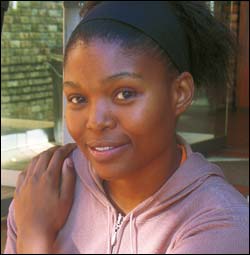 Golden voice: Pumeza Matshikiza, from quantity surveying to opera.
Daunted by an alienating culture when she arrived at UCT, Pumeza Matshikiza could not have known how the experience would shore her up for what was to come. From quantity surveying to the South African College of Music (SACM) in just over five years, life has taken a serendipitous turn for the Khayelitsha-raised and -schooled honours student.
And it's all in her voice. The soprano, who graduates this week, has won a full two-year scholarship to the Royal College of Music (RCM) in London, a melting pot of culture. It's not a mere accolade; the college's Dr Neil Mackie (CBE) describes Matshikiza as "probably the most promising soprano to come our way in the last ten years – she is a major talent".
She begins at the Benjamin Britten International Opera School in September under the tutelage of eminent soprano Marie McLaughlin, a professor of singing at the RCM.
With the two-year scholarship comes a host of prospects: opportunities for auditions at the notable opera houses, tête-à -têtes with opera agents and the possibility of working with some of London's finest voice coaches.
At the SACM, the sound-muffled corridors with their phalanx of singing studios are a long way from the empty school science laboratory where Matshikiza and her peers learnt chemistry off-pat from a textbook, without the sight and sounds of live experiments. "We didn't know what really happened when you mixed sodium with chloride."
And yes, UCT did represent opportunities, but it was scary. "I had never been in a community of white people. I didn't fit into their conversations. The limitations we had at school made many people less creative. It has become better with time. This is life maybe."
Her scholarship was not fortuitous. Matshikiza doesn't believe in chance. "It's the way life is supposed to be," she says confidently. "It is God's way," she says, adding that opportunity brings incumbent responsibilities. "If you don't put in any effort He will make His plan fail."
The soprano began singing in grade 1: "I was always singing in school choirs." Good at maths and science, her teachers steered her towards engineering. But it was not to be. After 18 months studying quantity surveying at UCT, she went back to what came naturally.
The mention of her supervisor, Virginia Davids, brings a flow of praise. They are close and the bond is evident. "When I think of leaving to go overseas, I think of how I'll miss Virginia," she adds. "We had a goal," she says of her mentor. "We were going somewhere."
Looking back at her five years at the university, she says her varied experiences gave her confidence. "I got in touch with myself," Matshikiza says. "Now I can be who I want to be."
It's a useful philosophy for London. The city bristles with creative talent and is known as a strong forge of character. "The weather is awful, but it will be nice to see how others live, to see other systems of life and to embrace others' cultures."
Her favourite singers are the late Maria Callas and Renata Scotto. And it's Scotto's name that is on her lips. "Do you know an acquaintance asked me if I'd like to take master classes with her? He gave me Renata's e-mail. I couldn't believe it when she came back to me."
Scotto has asked Matshikiza for a demo, still to be dispatched. "I couldn't believe it. It was like a tenor getting an e-mail from Pavarotti!"
"There's no money and no career in singing," a former teacher told her, eager to see her talented charge build a career in engineering.
But the money had begun to come and the career is just in the wings.
---
This work is licensed under a Creative Commons Attribution-NoDerivatives 4.0 International License.
Please view the republishing articles page for more information.
---