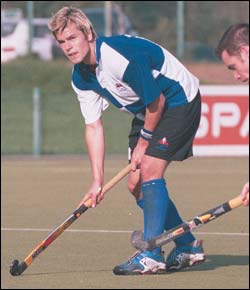 It's a blur: UCT's John Mumba (No 8 on shirt) whizzes past two Cape Tech rivals in UCT's convincing 86-48 win.
The women's hockey side was back in action after the recent interprovincial contest where a number of the side's players helped Western Province to glory.
The UCT team's first game after the break was hardly what coach Charles Stuart had hoped for though, the side losing 1-2 to Somerset West on Friday, May 21. UCT forced seven or so short corners out of the opposition defence - Somerset only managed about two or three - but couldn't capitalise on these, Stuart reported.
"I was a very frustrated coach at the end," he said. "The result was probably not a fair reflection of the game. We deserved to win - not even draw - to be quite honest."
Sarah George netted UCT's solitary goal.
Whatever Stuart said to his squad after the match seemed to do the trick, because UCT's outing against Pinelands on Wednesday, May 26, saw a much-improved performance. The side won 2-0, George scoring her second goal in two games. Jessica Glass added UCT's second on the night.
It was the men's turn to take a break last week, other than those players in the WP side competing in the interprovincial competition at Hartleyvale. Dylan Ball, Dave du Prez, Iain Parsons and Sean Thomson all contributed to WP's title bid, along with Pierre le Roux, who coaches both the UCT and WP squads.
WP beat Natal Midlands 4-0 in its first game of the tournament, played last Monday, Du Prez scoring twice. UCT old boy John McInroy also bagged one.
WP duplicated the 4-0 scoreline against Wits in its second game, but then fell 0-1 to tournament favourites KwaZulu-Natal. The side had done enough to make it into the semi-final, however, and was due to play Southern Gauteng on Friday, May 28.
The winner of that match would have gone on to play in the final last Saturday, May 29, against the winner of the second semi-final contested by KZN and SA Juniors.
---
This work is licensed under a Creative Commons Attribution-NoDerivatives 4.0 International License.
Please view the republishing articles page for more information.
---