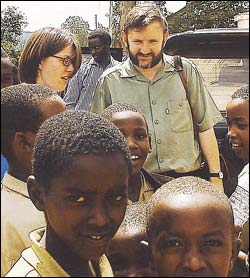 Sharing expertise: Oral historian Dr Sean Field (above, right) and audiovisual archivist Renate Meyer (left) visited Rwanda to help the country plan the audiovisual recordings and archiving of its gacaca hearings, nine years after the 100-day genocide.
The following units and institutes are noted in the first Social Responsiveness Report as examples of UCT's interactions with the needs of broader society.
Women's Health Research Unit - Cervical Health Intervention Project
In preparation for the introduction of a national public sector cervical programme in South Africa, the unit became involved in a study designed to develop, implement and evaluate health system interventions for improving screening services. The study has involved collaborative research partnerships with the Women's Health Project at the University of Witwatersrand, and Engender Health (an international reproductive health research and advocacy organisation). It has also involved partnerships with the national, provincial and regional departments of health in the Western Cape, Gauteng and Limpopo.
Institute of Criminology
The institute of Criminology, established in 1977, is a research unit linked to the Department of Criminal Justice. Its aim is to initiate, coordinate and develop teaching, research and social responsiveness in the broad field of criminology within and outside the university, and to promote public awareness of all aspects of criminology. One of the projects initiated by the institute was on rape law reform. The Gender Project played a pivotal role in the rape law reform process in 2002.
Organising a sexual offences working group, the institute submitted a 250-page submission to the South African Law Commission in response to their discussion document on Sexual Offences: Procedural Law. The working group consisted of: The Gender Project, Institute of Criminology, UCT; The Children's Rights Project, Community Law Centre, UWC; the Department of Forensics and Toxicology, UCT; Gender Project, Community Law Centre, UWC; and the Women's Legal Centre. The submission was used extensively (almost entirely) in the South African Law Commission's final report on sexual offences.
Disasters Mitigation for Substainable Livelihoods Programme (DiMP)
The DiMP is the secretariat for a regional network in disaster risk reduction, called Periperi (partners enhancing resilience for people exposed to risks). Among Periperi's accomplishments has been jump-starting small-scale domestic and agricultural rainwater harvesting efforts in Mozambique, Zambia and Zimbabwe, and linking these efforts to similar initiatives in East Africa. DiMP's efforts in publications advocacy have resulted in four popular publications that are distributed: Living with Drought: Drought in mitigation for sustainable livelihoods; Learning about livelihoods: Insights from Southern Africa; Urban Vulnerability: Perspectives from Southern Africa; and Risk, Sustainable Development and Disasters: Southern perspectives.
Service Learning and Critical Citizenship
Students in a second-year industrial sociology course are invited to replace two essays with a service learning option relating to the promotion of a democratic ethos of public service and providing support for workers seeking to access their rights. The project is ideally based on activities in which they as students already have direct knowledge or experience. The option provides an opportunity for students who may have had community or organisational experience of service to use that to their academic advantage and to the advantage of those they might offer a service.
Centre for Popular Memory
The centre contributes to strengthening the public voices of disadvantaged people through the popularisation of their stories. The centre conducts research through oral and visual recordings of people telling stories about themselves and their communities. For example, apartheid forced removals in the urban and rural areas of the Western Cape, and transnational African migration from Nigeria, Rwanda and the Democratic Republic of Congo. The centre has also developed audio-visual exhibitions in historical themes in Langa and Gugulethu. Off-campus partnerships have been established with the Democracy Radio Unit of Idasa and the Langa Heritage Foundation. The Centre provides courses on memory and history and oral history methods. In addition, short courses are given to community NGOs, museums and archives.
Source: Social Responsiveness Report 2003.
---
This work is licensed under a Creative Commons Attribution-NoDerivatives 4.0 International License.
Please view the republishing articles page for more information.
---