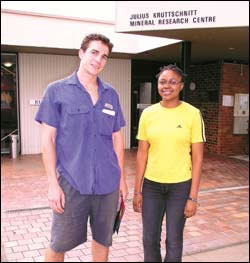 Promising researchers: Chemical engineering students Nick Smart (left) and Nomsa Yumba at the JKMRC in Brisbane, Australia.
While their fellow students were enjoying the Cape Town summer holidays, two chemical engineering students were hard at work on research projects overseas on a scholarship that is proving to be a particularly fruitful exchange between UCT and the University of Queensland.
Third-year students Nomsa Yumba and Nick Smart were chosen to visit the Julius Kruttschnitt Mineral Research Centre (JKMRC) in Brisbane, Australia, as part of a scholarship scheme between UCT and the University of Queensland.
The scholarship, now in its fourth year, attracts some of the brightest engineering students to the JKMRC to undertake two-months of vacation work over the December-January summer break each year.
The scholarship is usually given to the best nomination from third-year students at UCT's department of chemical engineering, and for the second successive year, the adjudicators couldn't split the finalists. Thus Yumba and Smart travelled together to Brisbane to take up their assignments.
For Yumba, whose interests lay primarily in comminution (a JKMRC specialist area, which is breaking down rocks to smaller, mineral production-scale particle sizes), her assignment was to study precisely-cut core samples for breakage analysis using the new SAG mill comminution (SMC) test.
Set by Dr Toni Kojovic, Yumba's task was to verify that diamond-cut quarter cores gave the same results as broken rock fragments through the SMC test, and whether the orientation of the samples affects breakage.
Kojovic praised Yumba for her practical approach to the task and how easily she picked up the rock breakage concepts.
According to Yumba, the scholarship was a great opportunity to gain exposure to how research is done, with the view to perhaps working in this area with the sponsors of her UCT bursary, AngloGold.
"It was the first time I had travelled outside of South Africa and I was surprised at the similarities between South Africa and Australia," she said.
She also had to endure one of the hottest Brisbane summers on record, working in the heat of the JKMRC metallurgical laboratory, sorting, sizing and then breaking rock samples with the JK drop weight tester.
"It was very hot in the pilot plant, but you had to grin and do it," she commented.
Her travel companion and fellow student, Smart teamed up with JKMRC principal research fellow Dr Peter Holtham to look at cyclones (a device used extensively in mineral processing to separate different-sized particles), and in particular a cyclone insert developed by Professor Dan Walsh from the University of Alaska Fairbanks.
Smart's task was to check the performance of the cyclone operated at the JKMRC without the insert, and then to put the insert into the rig, run the same experiment using quartz sand, and look for differences in how the cyclone classified - or restreamed - the material.
"What we wanted to do was to introduce a section with the insert to separate more and less dense particles simultaneously, thereby making a simple hybrid hydrocyclone and centrifuge," Smart explained.
"My job was to test whether adding the modification would change the separation efficiency of the hydrocyclone."
Essentially, Smart assisted Holtham examine the feasibility of developing the insert for industry-wide application.
This was his first experience with a cyclone rig, although previous vacation work with his bursary sponsor AngloAmerican Base Metals, has given him working knowledge of flotation spirals and also magnetic separation, the latter being at Namakwa Sands near his home country of Namibia.
Although not sure what to expect on arriving in Brisbane, Smart said that visiting the JKMRC had been a wonderful experience.
"I was given my own project, which gave me the chance to take it as far as I could within the time period, something which you don't always get with vacation work.
"I was also fortunate to engage with high-calibre people working on very interesting projects. And the JKMRC has quite a well-equipped lab that we wouldn't normally have access to as third- or fourth-year students at UCT," he added.
Both students agreed that Australia was similar to South Africa in many respects, particularly the landscape, climate, people and their lifestyles. Both are also equally enthusiastic about the scholarship programme, urging prospective recipients to grab the opportunity should it come up.
---
This work is licensed under a Creative Commons Attribution-NoDerivatives 4.0 International License.
Please view the republishing articles page for more information.
---