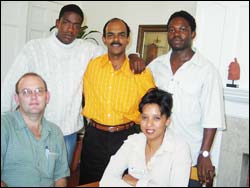 Home is where the heart is: The Rochester House team are (seated, from left) Glenn von Zeil and Naomi Claassen and (standing, from left) Paul Mokete, Varkey George and Mill Makanda.
Besides a few teething problems, UCT's newest addition to its student housing complement is finally up and running.
Now the university's largest mixed residence (it accommodates some 400 students in addition to 300 Groote Schuur health personnel), Rochester House boasts a variety of sui generis facilities including a beauty salon, a large swimming pool, two squash courts, a tennis court, a basketball/netball court and a multi-purpose hall.
Owned by the Provincial Administration of the Western Cape (PAWC), the building was used to house health professionals and nursing staff due to its close proximity to Groote Schuur. Renovations started in earnest in November and UCT spent approximately R6-million to upgrade the lodgings.
Acting warden Glenn von Zeil volunteered his expertise and together with deputy wardens Varkey George (men) and Naomi Claassen (women), the team have succeeded in ironing out last minute glitches and creating a "home away from home" environment for the mostly first-year students.
This while they have been hard at work at their day jobs (not to mention their family devoirs) - George is director of SHAWCO and Claassen is a student recruitment officer in the admissions office.
Von Zeil, who has many years' experience in the residence system, pointed out that in addition to being a new residence, providing accommodation to non-students was a unique situation.
"We have been dealt a very different set of cards, quite unlike any other UCT residence. We constantly need to be aware of this and use our energy and experience as a team to make it work."
George added: "We have made a point of keeping the students informed of what is happening and, in turn, they have been very understanding. Things are settling down now and the difficulties we have faced have actually pulled the entire residence together."
Claassen, who is responsible for the some 200 female students staying at Rochester, is planning to conduct regular corridor visits to get to know her charges better.
"The students need to know you are there for them, offering support and advice and sometimes a shoulder to cry on. I like that I can play a motherly role, especially as most of the students are far from home."
Democratically elected by the student body and heading up a team of eight subwardens, Paul Mokete, a third-year social science student, will act as a link between management and the students in his capacity as Head Student.
"We are pleased that the student structures are now in place and we have already had our first house function, which was a tremendous success. With our house committee up and running, we can deal effectively with any student issues that arise."
Rochester's dedicated subwardens are Mill Makanda, Jeri-Lee Mowers, Shala Ramakolo and Michael Tladi.
---
This work is licensed under a Creative Commons Attribution-NoDerivatives 4.0 International License.
Please view the republishing articles page for more information.
---