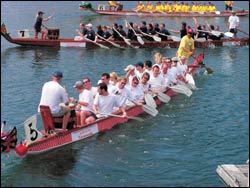 Dragon boat racers: A full-time MBA student team won the 9th International Dragon Boat Racing Festival held at the Waterfront.
The Graduate School of Business' full time MBA class paddled their way from being the underdogs to the victors at the 9th International Dragon Boat Racing Festival held at the Waterfront on November 23. Entered into the corporate section of the competition, the team, whose uniform consisted of an untidy array of white T-shirts, faced well-drilled and well-trained opposition from the likes of KPMG, British Airways and Securicor.
With only 30 minutes of training time behind them, UCT's 18-strong team (four of whom had never been in a dragon boat before) romped home in a time of 1:24.74 in the final, against a very strong Securicor team. Their route to victory included a semi-final dash against team Remax.
Chris Keane, the team's coxswain, explained the drama: "We started out well in the semi but soon we were paddling too fast, our timing was all over the place and Remax took the lead. Adriaan Wessels, our only experienced paddler, made some changes to our paddling rate and this brought things under control. "We pinched victory by a couple of tenths of a second."
Adopting a cunning plan in the final, Keane shouted the timing as well as banging on the drum so that his team members at the back of the boat could hear.
The plan paid off as the team produced a slightly slower but more co-ordinated stroke rate and emerged victorious, with the fastest time of the day by some margin.
"There were times this year when I wondered why there is so much focus on teamwork," said Keane. "I guess this is a great example of the value of effective teamwork. The more we listened to each other and worked together, the faster we went until we were able to take on all our competitors."
The team walked away with a trophy and gold medals.
Team members were: Adriaan Wessels, Brian van Oerle, Matt Turner, Brendon Jones, Gavin Bishop, Stef Stadler, Alison Goetze, Nikki Puttergill, Jan Muhl, Ben Lowther, Etienne Burger, Greg McKenzie, Greg Walsh, Robb Young, Tracey Bourne, Kate Ross, Libby Keane, Michelle Geib, Greg Brown and Alex Kay.
---
This work is licensed under a Creative Commons Attribution-NoDerivatives 4.0 International License.
Please view the republishing articles page for more information.
---