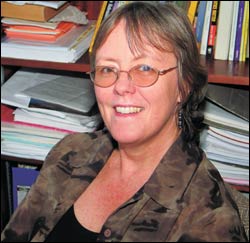 Incoming: Prof Paula Ensor.
The Faculty of Humanities bids farewell to outgoing dean Professor Robin Cohen who will be returning to Warwick University. His successor is Professor Paula Ensor, a mathematics education specialist at UCT.
Cohen has been at UCT for close on three years, having taken a leave of absence from Warwick in the United Kingdom, where he will be returning as professor of sociology and as a senior research fellow in the Centre for the Study of Globalisation.
After close on three years as Dean of Humanities, Cohen said he had been happy to be associated with UCT, describing this university as a great institution, indeed "the best in South Africa".
He further commented: "I very much welcome Paula coming in as I think she will make a fine dean. And I would like to thank my colleagues in the faculty, both administrative and academic, for all their support.
"During my tenure, the faculty has seen a number of improvements and changes, including much greater demand for our degrees, better completion of degrees, more graduate students and an improved research record.
"Perhaps the most important development has been the creation of the Centre for Film and New Media Studies. Students are producing wonderful documentaries, and the new Master's in Fine Arts in Film and New Media is recruiting well."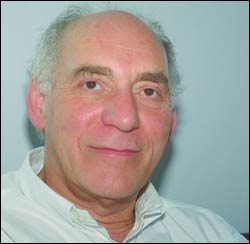 Outgoing: Prof Robin Cohen.
On challenges ahead, he said the faculty needed to create an even greater sense of coherence given its origins in five prior faculties, and to think carefully about the many pathways and options open to students, and whether UCT could afford to sustain them.
Ensor, who started her academic career as an economist, has a PhD from the University of London in the field of mathematics education. In the 1970s, she was banned for five years for her role as Vice-President of NUSAS. She originally intended pursuing a master's in economics at UCT, but was prohibited from registering in terms of the banning order. In 1976, she left South Africa as a refugee for the UK, via Botswana, returning later in 1981 to lecture at the Botswana Polytechnic in Gaborone.
In 1989 she returned to England to complete an MSc at the Institute of Education, University of London, where she also obtained her PhD.
She has been at UCT since 1993, and will be the Acting Dean of Humanities for the next two years. She commented: "It is with great sadness that we bid Robin Cohen farewell. He has achieved an extraordinary amount in a short time and will be long remembered for his contribution to the faculty. We wish him well for the future.
"Occupying the dean's seat in the biggest, most complex, and probably the best faculty of humanities in South Africa is a daunting task, but one which I greatly look forward to.
"I come from within this faculty and am deeply committed to it and its future.
"In my view the most complex set of challenges we face relates to our positioning as a humanities faculty in contemporary South Africa, and the particular tensions and opportunities that arise from this.
"These challenges confront the whole university, of course, but the university naturally looks to the humanities to appropriately illuminate them. We cannot step aside from this responsibility."
---
This work is licensed under a Creative Commons Attribution-NoDerivatives 4.0 International License.
Please view the republishing articles page for more information.
---