July 14 - 20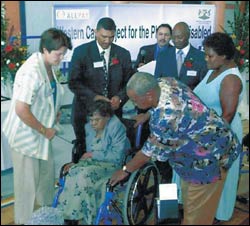 The approval by the Medicines Control Council of the first human trials of candidate HIV vaccine in South Africa has scientists cautiously hopeful. A wheelchair project involving physiotherapy's Merle Futter delivers 71 wheelchairs to disabled people in Lotus River, part of the Western Cape Physically Disabled Project. The Academics' Association appoints Dr Gillian Finchilescu as chair for a year. UCT gymnast Gary Birch takes first place in the level five category of the national championships at the SASSU games.
July 21 - 27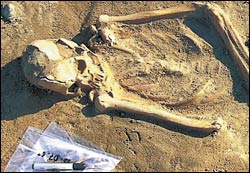 Certain HIV positive staff members receive free anti-retrovirals and counselling following a Council decision to implement comprehensive HIV/AIDS intervention programmes. UCT archaeologists called in as human (above) remains are found at Prestwich Place, believed to be part of a slave burial ground. Prof Lynette Denny (gynaecology and obstetrics) is a finalist in the Shoprite Checkers/SABC 2 Woman of the Year award.
July 28 - Aug 3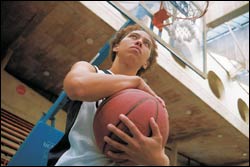 The new Postgraduate Centre opens in the Otto Beit Centre. A R12-m grant from the Innovation Fund puts UCT scientists on course to develop a batch of plant-based vaccines against the Human papillomavirus. Basketballer Kornelia Semmerlink (above) is the only UCT player to represent SA at the 2003 World Student Games in South Korea. A century of history is recalled as the historical studies department prepares to celebrate its centenary.
Aug 11 - 17
Judy Favish is installed as new director of institutional planning. The ADU website celebrates a cyberspace milestone with its 50 000th hit. Eight members of the UCT Debating Union are involved in a car accident near Calvinia. World Cup contender Bobby Skinstad makes his debut for UCT's First XV rugby. All-woman UCT quartet, Muse, are all the rage (above).
Aug 18 - 24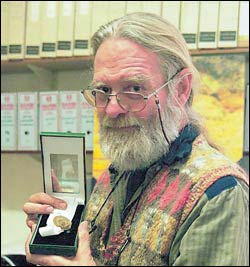 UCT debaters Kate Orkin and Rob Garlic wing the English First Language trophy and share the Best Speaker award at the National Universities Debating Championships, the youngest team ever to win either of these accolades. The Laboratory for Tissue Immunology receives accreditation from the European Federation of Immunogenetics. (EFI). The Freshwater Research Unit's Prof Bryan Davies (above) receives a gold medal at the meeting of the Zoological Society and the South African Society of Aquatic Scientists.
Sept 8 - 14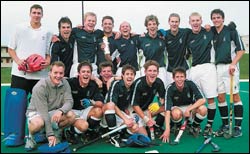 Prof Luigi Nassimbeni is named as the 2003 recipient of the South African Chemical Institute's prestigious Gold Medal, in homage to his contributions in the field of physical chemistry. The UCT men's hockey first side (above) bags their third consecutive WP Hockey Union's league title.
Sept 22 - 28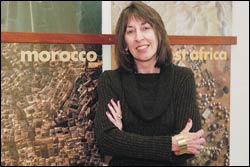 Prof Vanessa Watson (above) wins the Department of Science and Technology's annual Distinguished Woman Scientist Award. Profs Zephne van der Spuy (gynaecology and obstetrics) and Jennifer Thomson (molecular and cell biology) are among the four finalists.
---
This work is licensed under a Creative Commons Attribution-NoDerivatives 4.0 International License.
Please view the republishing articles page for more information.
---