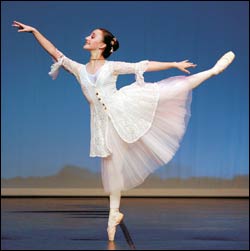 Reaching for the stars: Second-year dance student Laura Bosenberg who has added another accomplishment to her already impressive list of achievements.
Laura Bosenberg is at it again. Barely two months ago Monday Paper ran a story on this second-year dance student who, at the tender age of 19, had been named as the first cast in Veronica Paepers' Merry Widow - a role which formed part of Cape Town City Ballet's (CTCB) show, Classic Highlights.
Adding another phenomenal accomplishment to her list, Bosenberg danced circles around her 22 rivals, some from as far afield as Port Elizabeth and East London, at the first-ever Western Cape Royal Academy of Dance (RAD) Bursary Awards, held at the Baxter Theatre on November 7 and 8.
Taking first place, Bosenberg will now spend two weeks at London's Royal Academy of Dance Summer School, with all flights paid for.
Keith Mackintosh, CTCB Ballet Master and one of the judges at the event, said that Bosenberg's performance was clean and exciting and that she had paid particular attention to detail.
"These are, of course, qualities we look for at CTCB when auditioning new dancers," he said. The runners-up were Quinne Steytler of the Marike Hendriksz Ballet School in Stellenbosch and Frieda Mennen, trained by Dianne Cheesman at the UCT Junior Ballet School.
Under the watchful eye of former CTCB ballerina Nicolette Loxton and CTCB publicist Andrew Warth, the candidates performed a gruelling class (accompanied by UCT pianist Allie Van Oort) in front of a panel of judges who included former RAD examiner Sheila Stirling, former CAPAB principal dancer Allison Foat, and well-known choreographer Christopher Kindo.
Professor Elizabeth Trigaardt, executive chairman of CTCB, was also present at the event and was encouraged by the talent on display.
"I was impressed by the organisation and standard of the competition," she said. "The obvious talent identified from the Eastern and Western Cape bodes well for the sustainability and future of classical ballet in this country."
---
This work is licensed under a Creative Commons Attribution-NoDerivatives 4.0 International License.
Please view the republishing articles page for more information.
---